You are here
Assessment of Mental Capacity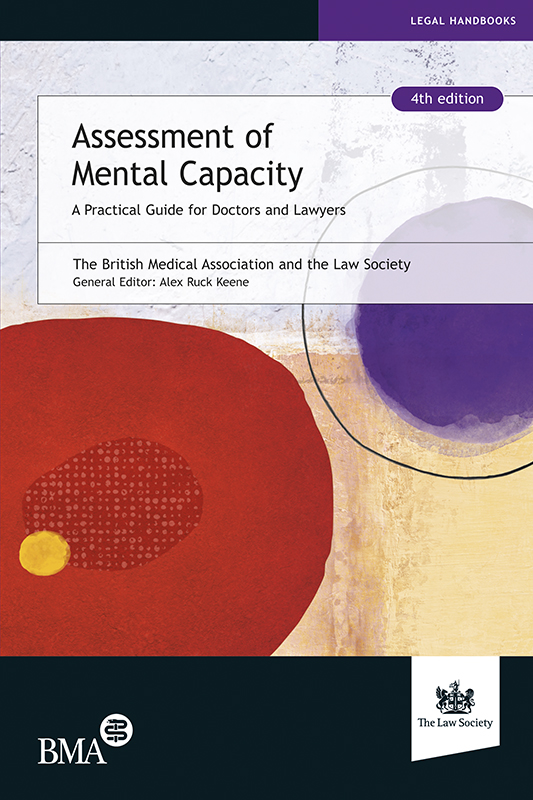 View larger image
Assessment of Mental Capacity
A Practical Guide for Doctors and Lawyers, 4th Edition
Availability: Published
Doctors, lawyers and other professionals often need to make an assessment of a person's mental capacity. This book helps to support these professionals by giving them:
a fuller understanding of the law in all situations where an assessment of capacity may be needed
clarification of the roles of both professions
an aid to communication both between them and with the person being assessed.
Written by experts from a variety of disciplines, this book combines a precise statement of the law with a practical, jargon-free approach to provide guidelines on a range of issues, from capacity to form intimate personal relationships to capacity to consent to medical treatment. This edition takes account of:
case law and good practice
revision of the Mental Health Act 1983: Code of Practice
the rising prominence of the United Nations Convention on the Rights of Persons with Disabilities.
It provides an essential source of guidelines and information, including extracts from the Act and the Code of Practice and is an indispensable tool for health and legal professionals.
---
Contents
Part I Introduction:
1. The law, practice and this book
2. Professional and ethical issues.
Part II Legalprinciples:
3. The Mental Capacity Act 2005: capacity and best interests
4. The legal principles: capacity and evidence.
Part III Legal tests of capacity:
5. Capacity to deal with financial affairs
6. Capacity to make a will
7. Capacity to make a gift
8. Capacity to litigate
9. Capacity to enter into a contract
10. Capacity to vote
11. Capacity and personal relationships
12. Capacity to consent: the criminal law and sexual offences
13. Capacity to consent to and refuse medical treatment and procedures
14. Capacity to consent to research and innovative treatment
15. Capacity and the deprivation of liberty
16. Capacity and the Mental Health Act.
Part IV Practical aspects of the assessment of mental capacity:
17. Practical guidelines for doctors
18. Practical guidelines for lawyers.
Appendix:
A. Mental Capacity Act 2005, ss.1-6
B. Mental Capacity Act2005: Code of Practice, Chapters 2-4
C. Court of Protection
D. Court of Protection Practice Direction 9E:Applications relating to serious medical treatment
E. The Official Solicitor
F. Certificate as to capacity to conduct proceedings (Official Solicitor)
G. COP3 Assessment of Capacity and Guidance Notes
H. Sample letter to a GP requesting evidence of testamentary capacity
I. Addresses
J. Further reading.
About the Author
Alex Ruck Keene is a barrister at 39 Essex Chambers and an Honorary Research Lecturer at the University of Manchester. He has appeared in cases involving the Mental Capacity Act 2005 at all levels up to and including the Supreme Court.
Category
Mental health
Published
October 2015
Publisher
Law Society
ISBN
9781784460389
Format
Paperback
368 Pages