You are here
Children and Families Act 2014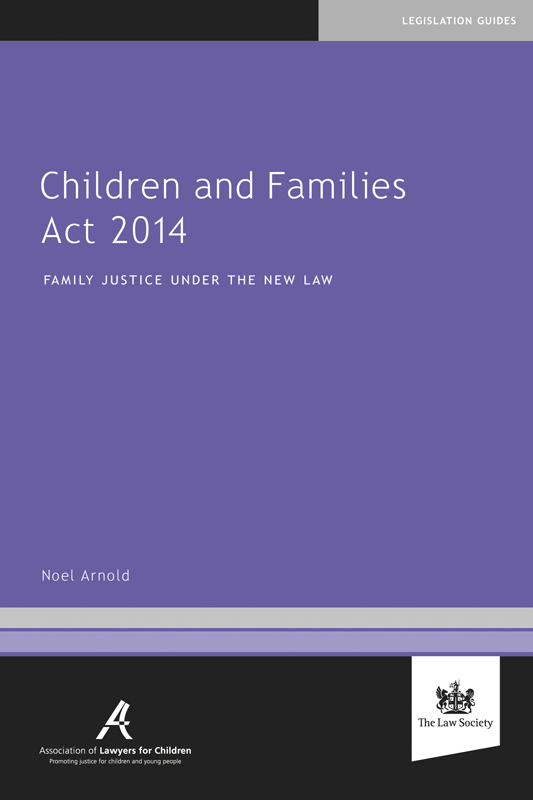 View larger image
Children and Families Act 2014
Family Justice under the New Law
Availability: Published
Children and Families Act 2014 offers you the full text of all the Parts of the Act dealing with family justice matters, including commentary on each of those parts. Expert author Noel Arnold also outlines the major changes that you need to be aware of and offers insight into how these may impact the day-to-day practice of the busy family lawyer. Key changes introduced by this legislation impact areas including:
adoption and orders for contact or no contact
aspects of the family justice system
private family law arrangements for children and parental involvement
time limits for care and supervision proceedings
the introduction of compulsory mediation information assessment meetings (MIAMs)
fostering to adopt
scrutiny of care plans.
---
Contents
Chapter 1. Public family law
Chapter 2. Adoption law
Chapter 3. Children in care
Chapter 4. Private family law
Chapter 5. The Family Court
Chapter 6. Children's Commissioner
Appendix. The Children and Families Act 2014.
About the Author
Noel Arnold is a practising solicitor and the Director of Legal Practice at Coram Children's Legal Centre. He is a member of the Association of Lawyers for Children's Executive Committee and the Law Society's Children Law Sub-Committee. He is accredited to the Law Society's Children Law Accreditation Scheme and has delivered extensive training on public family law reform.
Category
Family and social welfare
Published
September 2014
Publisher
Law Society
ISBN
9781907698996
Format
Paperback
256 Pages