You are here
COLPs Toolkit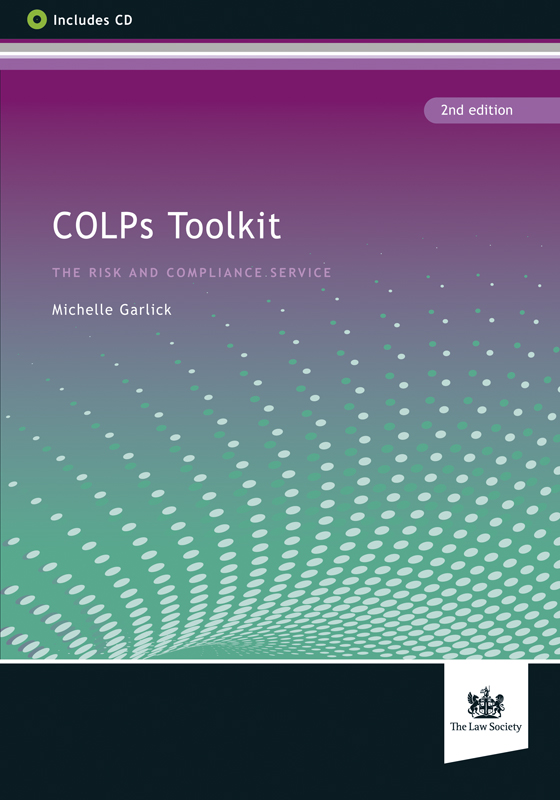 View larger image
COLPs Toolkit
Law Society's Risk and Compliance Service, 2nd Edition
Availability: Published
Since the introduction of compliance officers for legal practice (COLPs), the SRA has simplified some of the procedures for the approval, declaration and notification of changes to the role of COLP. These changes, as well as additional new templates, are included in this updated second edition, an invaluable resource for both new and existing COLPs.

This essential toolkit contains draft policies, procedural checklists and other instruments to assist practitioners in demonstrating due diligence and remaining fully compliant with the SRA Handbook.

This fully updated edition includes a new chapter, 'Additional COLP tools', as well as several new and revised templates, including:
revised risk register
COLP nomination form
checklist for new COLPs
routine compliance activities checklist
key staff monthly feedback report
checklist of action in a suspected breach
data protection and loss policies
audit and file review forms.
---
Contents
1. Role of the COLP
2. Becoming a COLP
3. Ensuring compliance
4. Reporting to the SRA
5. Additional Tools for COLPs
6. Appendices.
About the Author
Michelle Garlick is a partner at Weightmans LLP where she heads up the team advising law firms on regulatory compliance, claims, complaints handling, disciplinary representation and risk management issues.
Category
Regulation and compliance
Published
September 2016
Publisher
Law Society
ISBN
9781784460457
Format
Paperback + CD
144 Pages