You are here
Complaints Handling Toolkit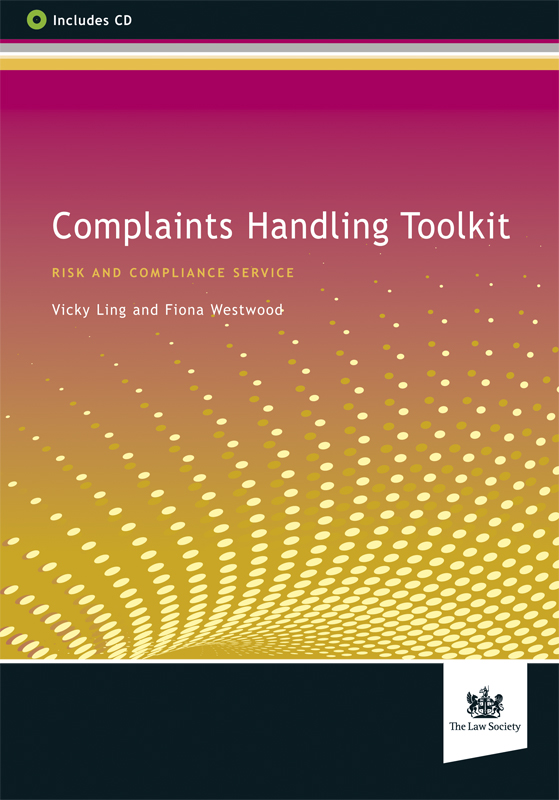 View larger image
Complaints Handling Toolkit
Law Society's Risk and Compliance Service
Availability: Published
Legal practices have much to gain from minimising and dealing effectively with complaints, including:
improved client care
increased client satisfaction
decreased risk of complaints
reduced risk of subsequent fines
less time spent dealing with complaints.
Also, to comply with the SRA Handbook all legal practices must have a written procedure which ensures that complaints are dealt with promptly, fairly, openly and effectively.

The Complaints Handling Toolkit is designed to help practices implement best practice and meet their regulatory requirements. It provides draft policies, procedural checklists and other useful templates that you can use to supplement your existing complaints procedure or to create a new one. Here is a sample of just some of the templates it contains:

• Written complaints policy
• Written complaints procedural checklist
• Sample complaints form
• Letter acknowledging complaint
• Letter of apology
• Complaints training policy for staff
• Self-audit checklist
• Referral letter to the Legal Ombudsman
• Template annual complaints report.

All of the templates are provided on the book's accompanying CD so you can customise them as needed.
---
Reviews
'This book provides great value...if just one complaint is averted the cost of the book will be easily recovered, in reputation if not in actual costs.'
Legal Abacus
Contents
1. Introduction
2. Regulatory requirements
3. Client care
4. Training
5. Complaints handling
6. Recording and reporting complaints
7. Sources of guidance and support.
Category
Practice management
Published
October 2014
Publisher
Law Society
ISBN
9781907698675
Format
Paperback + CD
112 Pages