You are here
Consumer Credit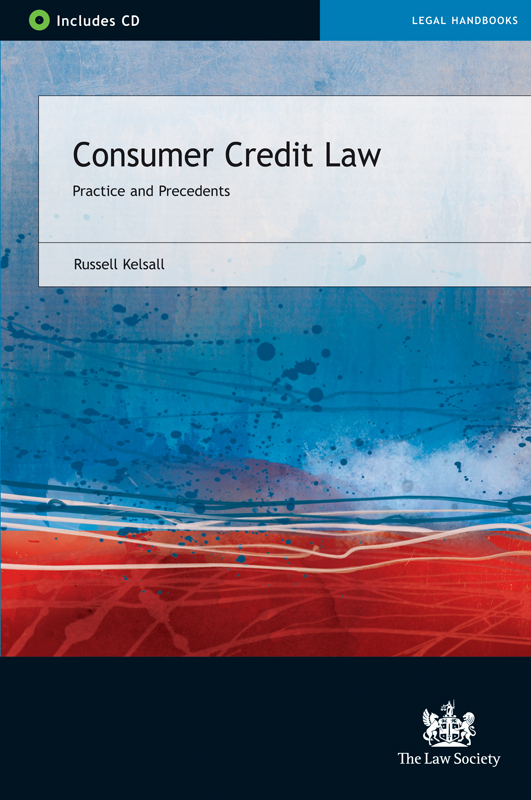 View larger image
Consumer Credit
Law, Practice and Precedents
Availability: Published
Consumer Credit provides an accessible guide to consumer credit and hire law. Its practical and jargon-free approach will allow readers to quickly grasp the main principles and apply them to any situation. This book covers:
key concepts and definitions
the legal structure of consumer credit
issues of current interest including:


consideration of the substantial amount of consumer credit litigation in recent years
the impact of the Consumer Credit Directive and its wholesale change of the consumer credit market
consideration of Office of Fair Trading Guidance (particularly the Irresponsible Lending Guidance).
With over 20 key precedents including agreements, notices, particulars of claim and defences, contained on the accompanying CD, Consumer Credit is an invaluable tool for solicitors, advocates (including barristers), judges, compliance managers and recovery or collection managers.
---
Contents
1. Introduction, definitions and credit and hire agreements
2. Licensing
3. Seeking business
4. Before entering into a regulated agreement
5. Entering into regulated agreement
6. Obligations during regulated agreement
7. Default and termination
8. Enforcing an agreement
9. Security
10. Judicial control
11. Current issues in consumer credit litigation
Precedents.
About the Author
Russell J. Kelsall is a Senior Associate in Squire Sanders Hammonds' Litigation and Financial Services Practice Groups. He is a leading consumer credit lawyer and has considerable expertise in both contentious and non-contentious consumer credit issues.
Category
Company and commercial
Published
20/01/2012
Publisher
Law Society
ISBN
9781853288746
Format
Paperback + CD
424 Pages