You are here
Conveyancing Checklists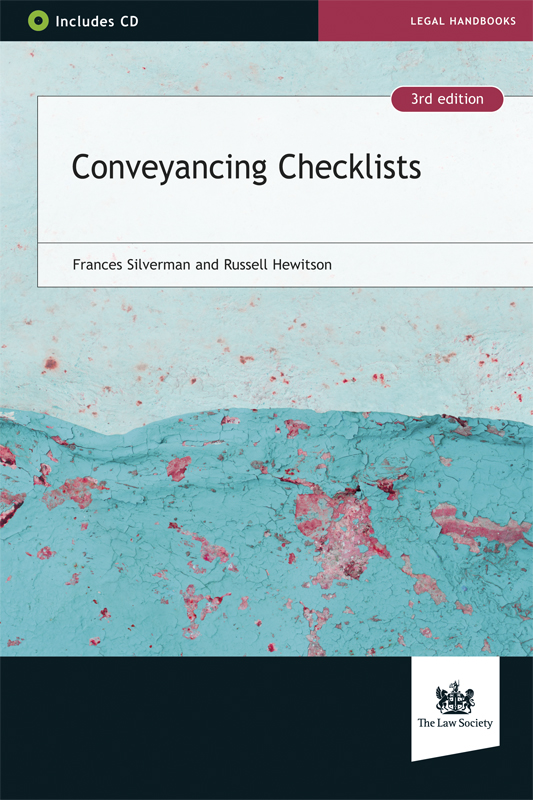 View larger image
Conveyancing Checklists
3rd Edition
Availability: Published
Designed to take the stress out of conveyancing, this handy guide has been thoroughly updated to help save you and your practice time and money. Our step-by-step checklists provide valuable tools for you and your conveyancing team to complete your daily work and help to reduce errors. Covering all stages of transactions of residential freehold and leasehold property, our comprehensive checklists provide a reliable method of ensuring that all the necessary steps in a transaction have been successfully fulfilled, in order, and to deadline. All of the checklists are reproduced on an accompanying CD so they can be adapted to suit your practice and case management system.
---
Contents
Part A: Checklists:
1. General Matters
2. Taking instructions
3. Pre-contract procedures
4. Contracts
5. Exchange of contracts
6. Pre-completion procedures
7. Completion and post completion
8. Mortgages
9. Building estates
10. Sales of part
11. Leaseholds
12. Remedies
13. SDLT, LLT, VAT and other tax matters
14. Registered land
Part B: Standard Letters:
15. Sale
16. Purchase
17. Remortgage
Appendices:
A. Law Society procedures for exchange and completion
B. Standard Conditions.
About the Author
Frances Silverman is a solicitor and formerly a reader at the College of Law (now the University of Law). Russell Hewitson is an associate professor at Northumbria University.
Category
Property and conveyancing
Published
July 2018
Publisher
Law Society
ISBN
9781784460686
Format
Paperback + CD
288 Pages