You are here
Conveyancing Handbook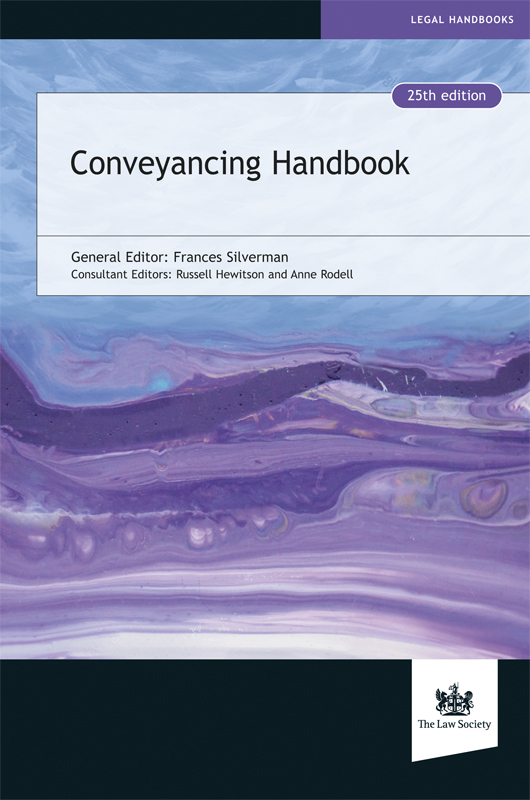 View larger image
Conveyancing Handbook
25th Edition
Availability: Published
This 25th anniversary edition of the Law Society's Conveyancing Handbook has been extensively updated to present the latest guidance on good practice in residential conveyancing and is a crucial resource for answering queries arising from day-to-day transactions.

This edition features new chapters on the introduction of Welsh land transaction tax, and guidance on mobile homes, as well as revised and updated chapters on recent changes to SDLT and Money Laundering Regulations.

The Conveyancing Handbook is a trusted first port of call for thousands of practitioners. It is revised annually by a team of experts, directed by an editorial board and edited by Frances Silverman.

The 25th edition includes new or updated guidance on:
Welsh Land Transaction Tax – new chapter
mobile homes – new chapter
changes to SDLT including higher rate and changes to tax relief
revisions to the Standard Conditions of Sale and Standard Commercial Property Conditions
the latest guidance from HM Land Registry, including the new Guide 67 on confirming identity and Guide 78 on overseas companies and limited liability partnerships
searches, including new guidance on coal and brine searches
Money Laundering, Terrorist Financing and Transfer of Funds (Information on the Payer) Regulations 2017 and the LSAG guidance
latest advice from the Law Society and HM Land Registry on property fraud
new office leases
leaseholds.
In association with First Title.
---
Contents
A. Preliminary matters
B. Pre-exchange
C. Exchange
D. Title
E. Pre-completion
F. Completion
G. Post-completion
H. Lenders
I. New properties
J. Sales of part
K. Leaseholds
L. Commonhold
M. Delay and remedies
N. Costs
Appendix.
About the Author
Frances Silverman is a solicitor and formerly a reader at the College of Law (now the University of Law). Frances sits as a fee paid employment judge and as a judge in the First Tier Property Tribunal and is a founder member of the Institute of Expert Witnesses.
Category
Property and conveyancing
Published
02/10/2018
Publisher
Law Society
ISBN
9781784461065
Format
Hardback
1504 Pages