You are here
Conveyancing Handbook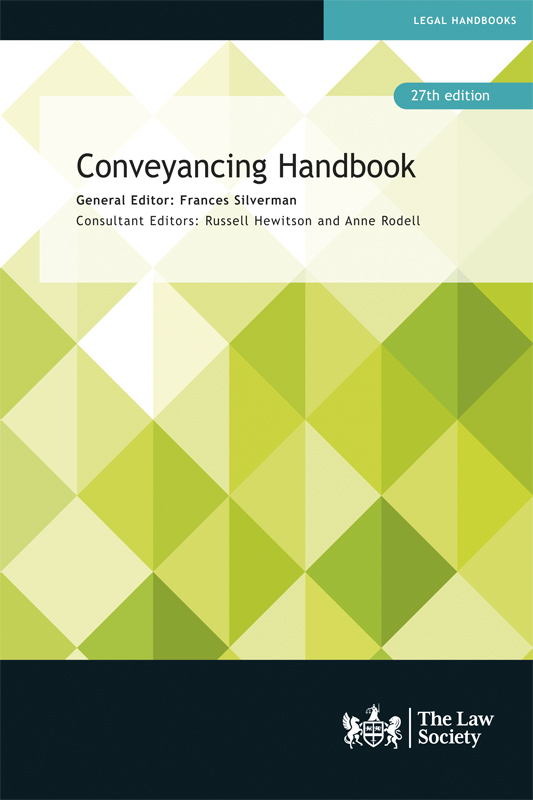 View larger image
Conveyancing Handbook
27th edition
Availability: Forthcoming
Pre-order before 31 August 2020 and receive £10 off when you use promotion code CON10. Special offer price: £100. Price reverts to the full price of £110 on 1 September 2020. This offer is not available in conjunction with any other offer or Law Society Section membership discount.
The Conveyancing Handbook has been a trusted first port of call for thousands of practitioners for 27 years.
This year's edition has been extensively updated to include the latest guidance on good practice in residential conveyancing and is a crucial resource for answering queries arising from day-to-day property transactions.
The 27th edition includes new and updated guidance on:
SRA regulatory changes;
money laundering reforms;
the Conveyancing Protocol and Code for Completion;
HM Land Registry; and
VAT.
Throughout the book reference is made at appropriate points to the SRA Standards and Regulations, The Law Society Conveyancing Protocol (2019), the Standard Conditions of Sale and Code for Completion.
Appendices include Solicitors Regulation Authority; Law Society practice notes; Law Society protocol, codes and formulae; Standard conditions; Law Society forms; Law Society practice information; Law Society interest rate; and HM Revenue and Customs.
---
Contents
A. Preliminary matters; B. Pre-exchange; C. Exchange; D. Title; E. Pre-completion; F. Completion; G. Post-completion; H. Lenders; I. New properties; J. Sales of part; K. Leaseholds; L. Commonhold; M. Delay and remedies; N. Costs; Appendices.
About the Author
Frances Silverman .is a solicitor and formerly a reader at the University of Law and fee-paid employment judge. She is author of a number of books on conveyancing. Frances sits as a judge in the First-tier Property Tribunal and is a founder member of the Institute of Expert Witnesses.
Category
Property and conveyancing
Published
October 2020
Publisher
The Law Society
ISBN
9781784461621
Format
Hardback
1504 Pages