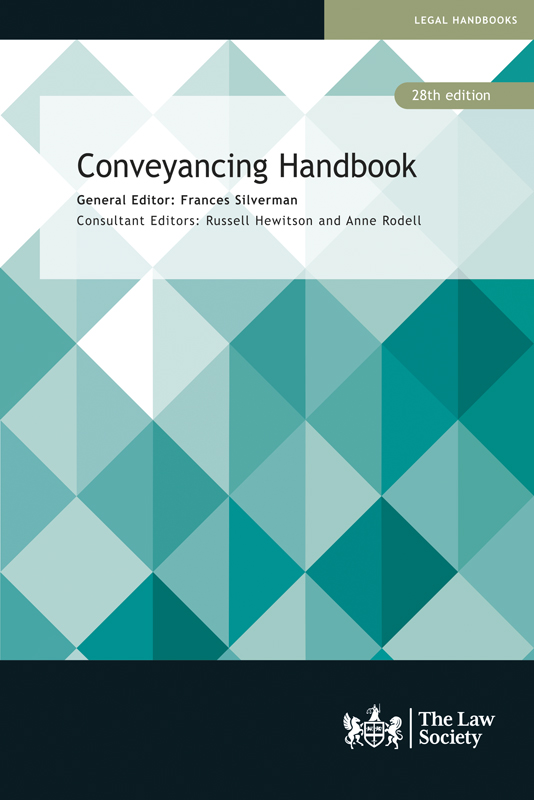 View larger image
Conveyancing Handbook (EPUB)
28th edition
Availability: Published
The Conveyancing Handbook has been a trusted first port of call for thousands of practitioners for over 28 years.
This year's edition has been extensively updated to include the latest guidance on good practice in residential conveyancing and is a crucial resource for answering queries arising from day-to-day property transactions.
The 28th edition includes new and updated guidance on:
shared ownership (including the new 2021 model for shared ownership);
SRA regulatory changes;
money laundering reforms;
HM Land Registry and electronic signatures; and
VAT and SDLT.
The chapter on shared ownership will, in addition to comprehensive guidance on shared ownership transactions and the existing model leases, include detailed guidance on the 2021 model lease which will be in use for property built using funding granted after 1st April 2021. Contents will include:
overview of the 2021 model lease;
detailed guidance on the new and revised fundamental clauses including:
revisions to alienation provisions;
revised staircasing provisions and the new 1% staircasing option;
the new repairing obligations; and
changes to mortgagee protection and practice implications.
SDLT;
lease term and extension of leases; and
enfranchisement proposals.
Throughout the book reference is made at appropriate points to the SRA Standards and Regulations, The Law Society Conveyancing Protocol (2019), the Standard Conditions of Sale and Code for Completion.
Appendices include Law Society protocol, codes and formulae; and other Law Society practice information, including COVID-19 industry guidance.
---
Reviews
The handbook is a must-go-to resource for all those, often daily, issues that come across a conveyancer's desk. It is worth every penny of its price and I recommend that every conveyancing firm ensures its staff members have access to the latest edition. (Review of hardcopy version).
John E. Jones, Board Member of The Society of Licensed Conveyancers
This book is an essential read for conveyancers. I will certainly be using this book as a ready reference when I have queries about the mechanics of property transactions and conveyancing practice, which often arise in the context of contract and land disputes, or professional negligence claims. The information in the book would also be invaluable to anyone in a law firm who is tasked with internal risk management and best practice relating to property files. (Review of hardcopy version).
Jenny Kemp, Associate, WBW LLP
Contents
A. Preliminary matters; B. Pre-Exchange; C. Exchange; D. Title; E. Pre-completion; F. Completion; G. Post completion; H. Lenders: I. New properties; J. Sales of part; K. Leasehold; L. Commonhold; M. Delay and remedies; N. Costs; Appendices.
About the Author
Frances Silverman .is a solicitor and formerly a reader at the University of Law and fee-paid employment judge. She is author of a number of books on conveyancing. Frances sits as a judge in the First-tier Property Tribunal and is a founder member of the Institute of Expert Witnesses.
Category
E-books
Published
January 2022
Publisher
The Law Society
ISBN
9781784461805
Format
eBook