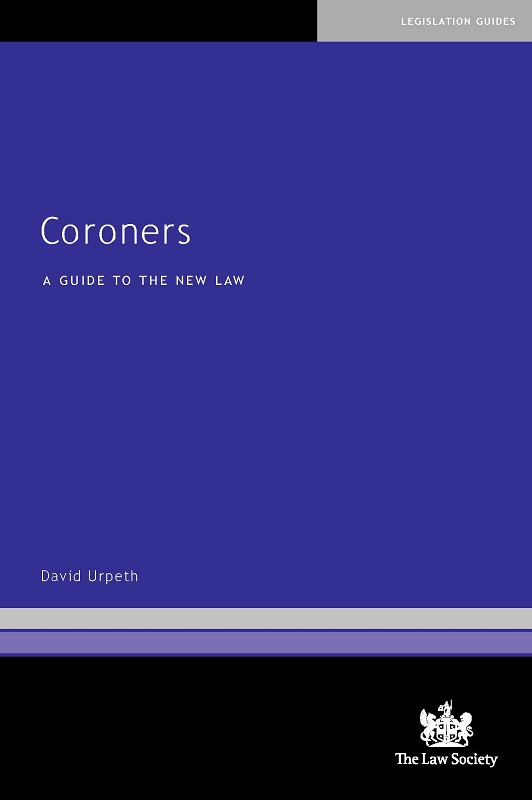 View larger image
Coroners
A Guide to the New Law
Availability: Published
The Coroners and Justice Act 2009 introduced deep and wide-ranging changes to the coroner system in England and Wales. Understanding these changes and their potential impact is essential for all practitioners representing claimants, defendants, witnesses, or family members.

This invaluable guide provides thorough coverage of the Act's provisions, which include:
the introduction of a new national coroner service headed by a Chief Coroner
a new death certification system
an Appeals process to enable the bereaved to appeal against coroners' decisions
independent inspections for deaths not investigated by the coroner
the division of England and Wales into new coroner areas
a new appointment system for coroners
increased powers for coroners to secure information and evidence, with the aim of improving the quality and outcomes of investigations
the ability to hold inquests in private if material that cannot be publicly disclosed is relevant to proceedings.
The book also covers the new Charter for the Bereaved. This charter aims to set out the services that bereaved people can expect from the coroner system and what they can do if standards are not met.

Coroners: A Guide to the New Law offers detailed analysis of the Act's provisions with reference to appropriate cases and existing legislative provisions and includes relevant sections and Schedules of the Act and the full text of the Charter.
---
Reviews
'David Urpeth provides a detailed informative guide to the current law.'
Phillip Taylor, Richmond Green Chambers
Contents
1. The passage of the Bill through parliament
2. Commentary on the Coroners and Justice Act 2009
3. Commentary on the draft Charter for Bereaved People
Appendices:
1. Coroners and Justice Act 2009 (extracts)
2. Draft Charter for Bereaved People.
About the Author
David Urpeth is a partner and National Head of Workplace Accidents at Irwin Mitchell. He is a Deputy Coroner, a member of the Personal Injury Panel, a member of the Association of Personal Injury Lawyers, and a fellow of the College of Personal Injury Law.
Category
Dispute resolution
Published
18/02/2010
Publisher
Law Society
ISBN
9781853288333
Format
Paperback
176 Pages