You are here
Domestic Abuse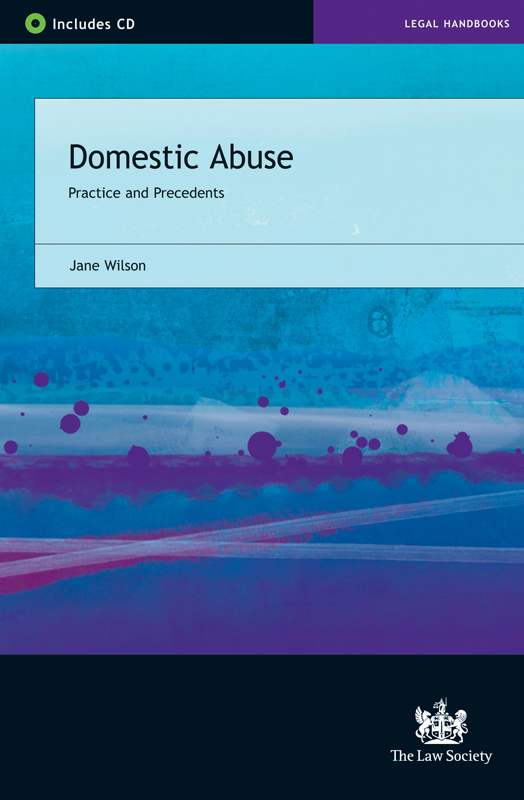 View larger image
Domestic Abuse
Practice and Precedents
Availability: Published
This book is a guide to all aspects of domestic abuse. Domestic Abuse outlines the various options, both civil and criminal, and contains the law and procedure relating to applications for injunction orders. Precedents, letters and checklists are provided within the book and on the accompanying CD, for:
non-molestation and occupation orders
Housing Act Injunctions
forced marriage protection orders
finding of fact hearings
Protection from Harassment Act injunctions.
The book takes account of changes made by the Civil Partnership Act 2004, Domestic Violence Crime and Victims Act 2004, the Forced Marriage (Civil Protection) Act 2007 and the Practice Direction: Residence and Contact Orders: Domestic Violence and Harm 2009.

Sections within the guide provide information on obtaining evidence and preparing statements and special measures available to enable vulnerable parties to give their best evidence at hearings. There is also an overview of Multi-Agency Risk Assessment Conferences (MARACs) and how crimes, including breach of a non-molestation order, are dealt with in the Specialist Domestic Violence Courts.
---
Reviews
'The book does succeed in providing a comprehensive guide to all aspects of domestic abuse. A very helpful, and above all practical, addition to the library of any family practitioner, whether acting for alleged victim or perpetrator.'
Family Lore
Contents
1. Frequency and risk of domestic abuse and its impact on the sufferer
2. Public funding
3.Taking initial instructions
4. Evidence and statements
5. Vulnerable parties and witnesses
6. Non-molestation and occupation orders under the Family Law Act 1996, Part IV
7. Forced marriage protection orders under the Family Law Act 1996, Part IVA
8. Protection from Harassment Act 1997
9. Injunction to restrain a tort
10. Housing Act 1996
11. Enforcement in the civil court following breach
12. The implications of domestic abuse in residence and contact applications
13. Domestic abuse in criminal proceedings
Appendices.
About the Author
Jane Wilson is senior partner at Hall Smith Whittingham LLP in Crewe and is a solicitor and Higher Court Advocate (Civil Proceedings) representing domestic abuse sufferers and perpetrators. Jane is a Resolution Accredited Specialist in Domestic Abuse and Advocacy-Children (Private Law), Chair of Resolution's Domestic Abuse Committee, and a member of the Cheshire East Domestic Abuse Partnership Strategic Management Group.
Category
Family and social welfare
Published
29/06/2010
Publisher
Law Society
ISBN
9781853288388
Format
Paperback + CD
400 Pages