You are here
EU General Data Protection Regulation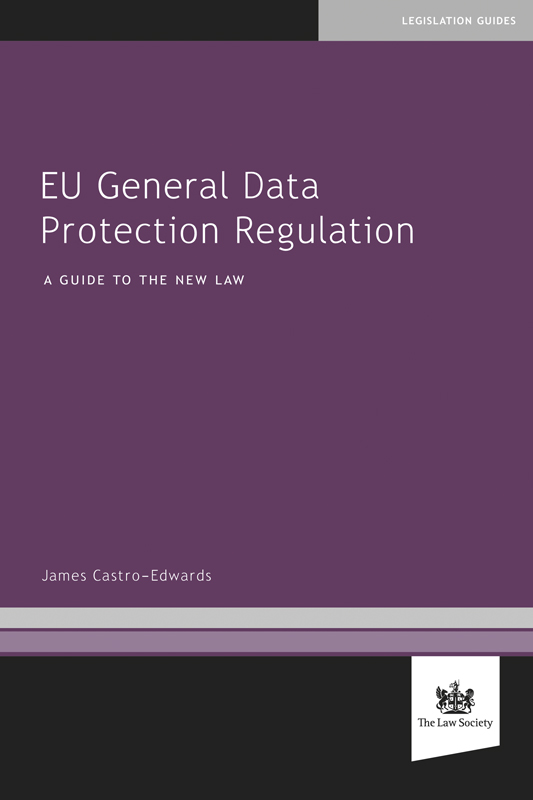 View larger image
EU General Data Protection Regulation
A Guide to the New Law
Availability: Published
The EU General Data Protection Regulation (GDPR) became law in the UK as the Data Protection Act in May 2018.

This legislation guide breaks down and analyses what this means for both your firm's own data and that of the clients you advise. This invaluable text:
provides a practical analysis of the GDPR
breaks the regulation down into easily digestible segments
includes the full text of the regulation.
---
Reviews
Data protection is not a simple or easy concept to explain but James Castro-Edwards succeeds in doing so, providing readers with a clear guide to this vital new legislation.'
James Button, Present of Institute of Licensing Ltd and Principal of James Button & Co
This is an extremely accessible, clear and approachable introduction to the new legislation and would be a useful addition to the library of both private practice and in- house lawyers alike.'
Hilary Barlow, The Leeds and Yorkshire Lawyer
Contents
1. Subject matter, material and territorial scope, and definitions
2. The data protection principles
3. Data subjects' rights
4. Controllers and processors, breach notification and DPOs
5. Data transfers
6. Independent supervisory authorities
7. Co-operation and consistency
8. Remedies, liability and penalties
9. Provisions relating to specific processing situations
10. Delegated acts and implementing acts
11. Final provisions
Appendices.
About the Author
James Castro-Edwards of Wedlake Bell advises organisations in the private, public and third sectors on data protection issues. His experience includes managing global data protection compliance projects for multinational companies, providing advice on discrete data protection issues and advising companies that have suffered a data breach.
Category
Regulation and compliance
Published
August 2017
Publisher
Law Society
ISBN
9781784460778
Format
Paperback
240 Pages