You are here
How to Grow Your Firm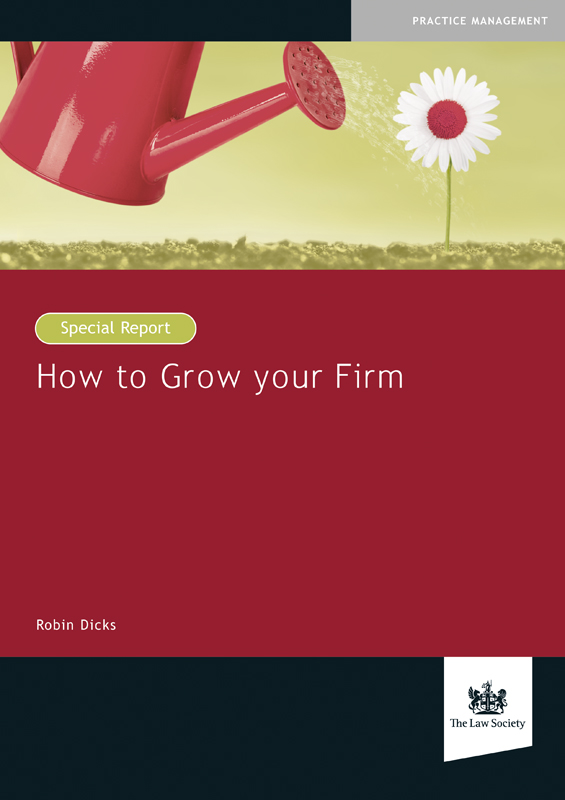 View larger image
How to Grow Your Firm
Availability: Published
In an increasingly competitive marketplace, growth is essential for the survival of any firm.

How to Grow your Firm provides specialist support and structure for those needing to generate or enhance growth within their firm. This practical guide will not only help you to create a clear direction for your firm to secure increased growth but also improve the focus and capability of the whole firm, individual practices and individual fee earners.

This special report will outline the key drivers of growth within your business and identify the gaps in your current approach. It will help your firm to invest in areas proven to generate return, to better align activities to achieve greater results and to reduce wasted effort and duplication - enabling your firm to become an even more profitable and successful business. This practical work offers:
a clear, logical approach and structure which focuses on the key issues
a clear and original model to guide thinking
real-life case studies exploring problems and their resolution
unique access to benchmark studies and research, based on over 1,000 professional services firms (including over 500 law firms)
checklists and diagnostics to review performance and identify gaps
an approach to generate better outcomes from training, client management and other strategic and business development initiatives
links to other useful resources including the ability to benchmark your firm's performance against a peer group of similar firms.
---
Contents
1. The impact of growth on a law firm's future
2. The things to avoid - reasons for failure
3. Traditional models of law firm financial performance
4. A better model - the drivers of growth, profitability and financial health
5. Growing billings
6. The barriers to growth - external and internal
7. The client perspective
8. Introduction to the self-review diagnostics: Growing client value; Extending client relationships; Acquiring new clients
9. Sources of growth
10. The role of client relationship management programmes
11. Management information, effective measurement and the important role of key performance indicators
12. What fee earners do (including exercises to use with them)
13. Bringing this together - the firm's growth plan
Other resources and references.
About the Author
Robin Dicks is founder director of The Thriving Company, a firm that helps law firms and other professional practices improve performance.
Category
Practice management
Published
February 2015
Publisher
Law Society
ISBN
9781784460099
Format
Paperback
104 Pages