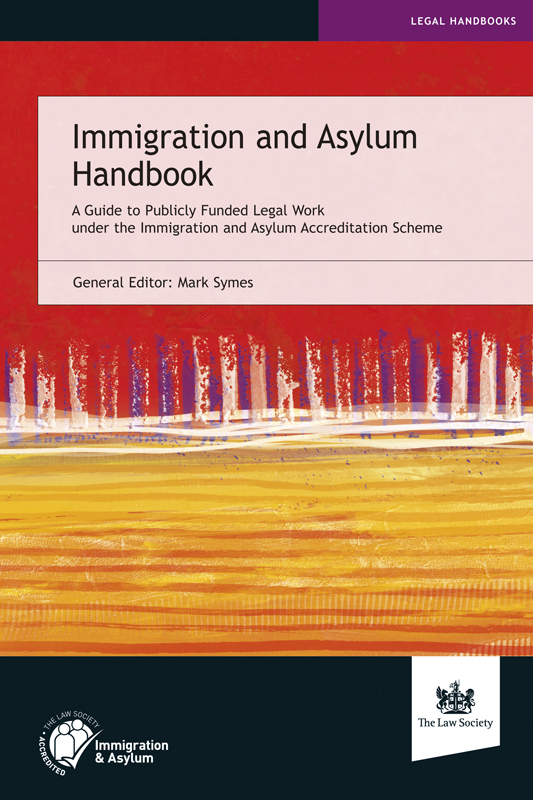 View larger image
Immigration and Asylum Handbook
A Guide to Publicly Funded Legal Work under the Immigration and Asylum Accreditation Scheme
Availability: Published
The Immigration and Asylum Handbook is a useful reference and revision manual for the Law Society's Immigration and Asylum accreditation exams at Levels 1 and 2 and a handy resource for anyone working with a Legal Aid Agency Immigration contract.
The core areas are those which fall within the scope of legal aid, and some out of scope, but are likely to be encountered by legal aid practitioners. The material is designed to reflect the realities of day-to-day legal practice. It includes law, evidence, procedure, appeals, administrative review and judicial review and outcomes. The practice areas covered are:
asylum law, claims and practice
human rights law
family reunion
deportation and detention
victims of trafficking and domestic violence.
A chapter on legal aid provides a guide to scope, merits and means tests, as well as the Immigration specification of the Civil Contract. It equips practitioners with the legal tools to apply for exceptional case funding for any work which is out of scope.

Supplemented by a compilation of source materials including domestic, European and international primary and secondary legislation and policy, the handbook is an essential guide for anyone seeking to navigate the complex rules surrounding immigration and asylum. It contains lots of practical examples and tips that advisers can use, and will become a permanent revision and casework support tool.
---
Contents
1. Refugee claims
2. Asylum process and practice
3. Human rights law and asylum appeals
4. Deportation
5. Detention
6. Victims of trafficking
7. Victims of domestic violence
8. Public funding
Appendices:
A. Statutes
B. Court procedure rules
C. International conventions and EU-derived statutory instruments
D. Immigration Rules (extracts)
E. Statutory guidance and policy.
About the Author
Mark Symes has represented clients on immigration, asylum and human rights law, including EU free movement law in every forum from the Tribunal to the Supreme Court, and the European Court of Human Rights, and is a founder director of HJT Training. HJT Training is a training provider recognised by the Office of the Immigration Services Commissioner (OISC). Established in 2003 by practising barristers, it provides courses, both face-to-face and online, and training materials for legal professionals and immigration advisers in a range of specialist areas, from human rights and immigration law to employment law and management practice.
Category
Legal aid
Published
May 2016
Publisher
Law Society
ISBN
9781784460662
Format
Paperback
448 Pages