You are here
Inheritance Act Claims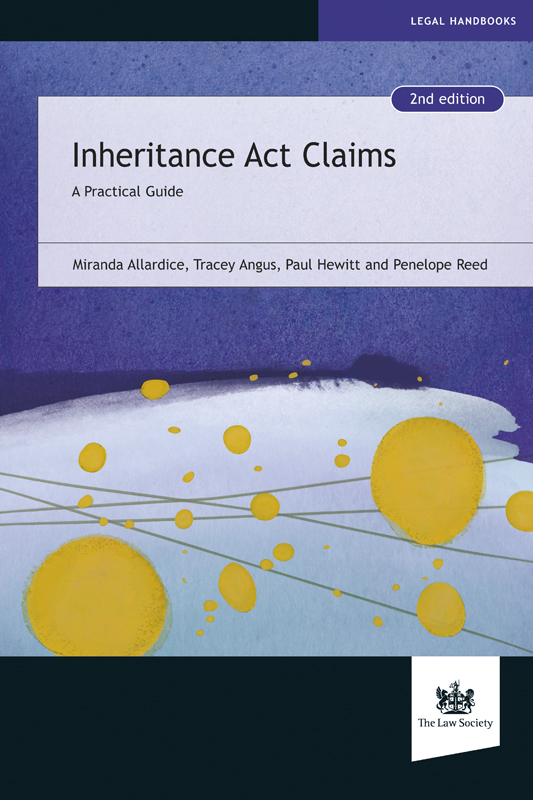 View larger image
Inheritance Act Claims
A Practical Guide, 2nd Edition
Availability: Published
This highly practical book provides a comprehensive guide to claims brought under the Inheritance (Provision for Family and Dependants) Act 1975.

It provides guidance on how to conduct claims, the court's approach, assessing quantum, the tax implications of orders and compromises, and the issues arising for will drafting. This edition includes:
new chapters on surviving spouses and civil partners; provision for applicants on the maintenance standard; and the role of the personal representative/trustee
analysis of the court's recent approach to domicile, applications for permission to make a claim out of time, anti-avoidance provisions, divorce comparator and applications made by cohabitees, dependants and adult children
explanation of how one class of applicant has widened.
---
Reviews
I would recommend this book to any practitioner who encounters the 1975 Act, however frequently. For occasional users, it is an accessible starting point; for those of us who deal with the Act every week it is a handy repository of resources and practica
Alexander Learmonth, New Square Chambers
I would recommend any practice with both private client and family lawyers to have a copy of this close by.
Izzy Jacques, Hedges Law
Contents
1. Overview
2. Threshold jurisdiction
3. Categories of applicant
4. The general approach to claims
5. Surviving spouses and civil partners
6. Provision for applicants on the maintenance standard
7. Anti-avoidance provisions
8. Procedure
9. Orders which the court can make
10. Compromise
11. Will drafting and the will file
12. Role of the personal representative/ trustee
Appendices:
A. Statutory extracts
B. Forms and precedents
C. ACTAPS guidance.
About the Author
Miranda Allardice of 5 Stone Buildings lectures for CLT, CPD and ACTAPS. Miranda was an advisory group member of the Law Commission Intestacy and Family Provision on Death Report. Tracey Angus QC of 5 Stone Buildings is a member of ACTAPS and the Chancery Bar Association. Paul Hewitt is a partner at Withers and a leading practitioner in trust and probate disputes. Penelope Reed QC of 5 Stone Buildings is a Civil Recorder, Deputy High Court Judge and mediator. Penelope is a member of STEP, ACTAPS and the Chancery Bar Association.
Category
Private client
Published
October 2017
Publisher
Law Society
ISBN
9781784460808
Format
Paperback
336 Pages