You are here
Law Management Section Merger Toolkit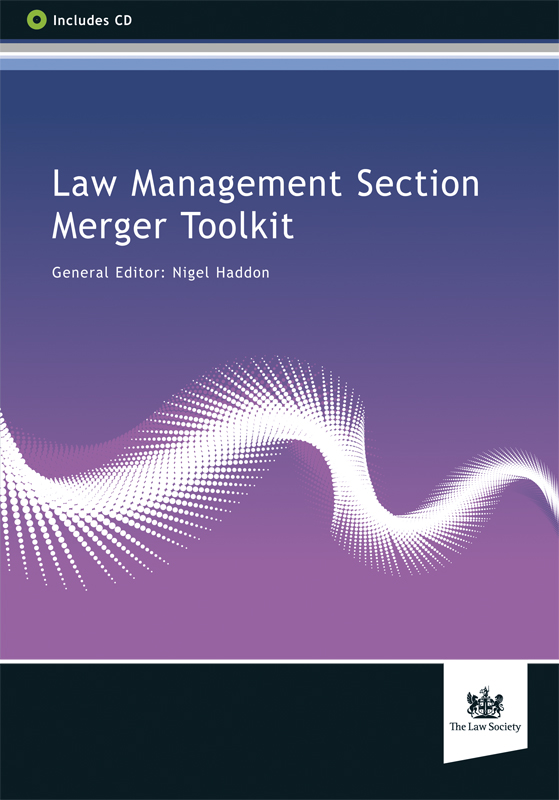 View larger image
Law Management Section Merger Toolkit
Availability: Published
The Law Management Section Merger Toolkit is designed to help firms gain a better understanding of the merger process and provides guidance throughout. The toolkit covers:
reasons for merger - merger as strategy implementation
the mechanics of merger - including getting started, identifying the key issues at stake, and undertaking due diligence
how to manage issues of apparent cultural incompatibility between
merging firms
integration and unlocking the benefits of merger.
This practical toolkit contains an extensive pre-merger questionnaire, a suitable confidentiality agreement and short and long form merger checklists on the accompanying CD, enabling you to customise them as needed.
---
Contents
1. Background
2. Why merge ? (1) Merger as strategy implementation
3. Why merge? (2) The forces driving consolidation in the UK legal services market
4. Mergers, strategy and business planning
5. Getting started
6. Identifying the issues
7. Due diligence
8. Cultural issues
9. What is integration?
10. What next?
11. Strategies to unlock the merger dividend.
About the Author
Nigel Haddon is chief executive of SAS Daniels LLP, a medium sized law firm in the north west, and itself the product of a merger in 2006. He is also past chair of the Law Society's Law Management Section.
Category
Practice management
Published
July 2012
Publisher
Law Society
ISBN
9781907698484
Format
Paperback + CD
120 Pages