You are here
Lexcel Client Care Toolkit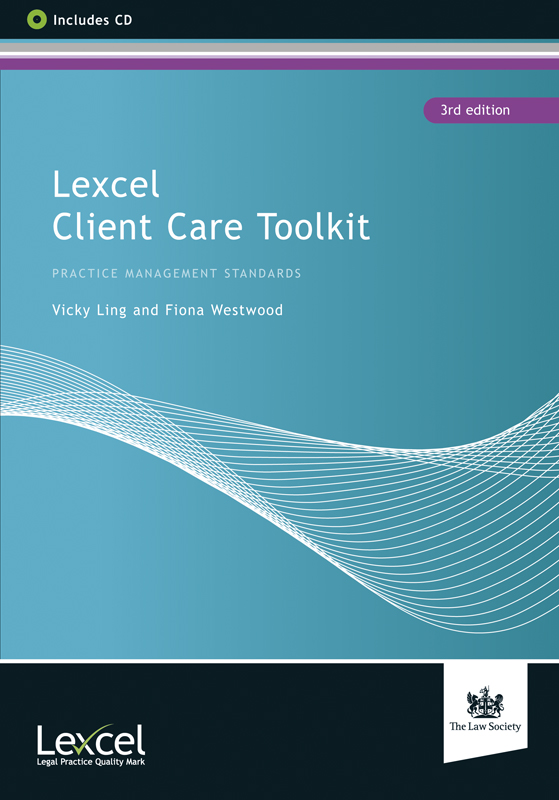 View larger image
Lexcel Client Care Toolkit
3rd Edition
Availability: Published
Save time and money by creating your own client care policies using the templates in this invaluable toolkit. They offer a fast and straightforward way to draw up bespoke policies tailored to your firm's needs.

The Lexcel Client Care Toolkit contains a range of template client care policies to help you achieve best practice (with or without Lexcel accreditation). It includes:
a completely revised and expanded chapter on delivering and improving client care
revised client care standard letter paragraphs for conveyancing, employment, litigation and family
a new chapter on SRA and Lexcel 6 compliance
new sections on equality and diversity and a checklist for delivering accessible services
a new chapter on SRA competences for client care.
In addition, the book includes new information on how to manage client services, processes and compliance with practical checklists and suggested standard paragraphs, as well as guidance on how to create a culture to improve client relationships in both the short and long term.

All of the documents are provided on the book's accompanying CD, enabling you to customise them as needed.
---
Contents
1.Introduction: delivering and improving client care
Annex 1A. Client care policy
Annex 1B. Cost update letter
Annex 1C. Client satisfaction survey
Annex 1D. Client review checklist
2.Compliance, SRA and Lexcel
Annex 2A. Consumer Contracts information about the exercise of the right to cancel
Annex 2B. Consumer contracts cancellation form
Annex 2C. Law Society Equality and Diversity Standards and Toolkit
Annex 2D. Issues to consider in relation to equality and diversity
3.Competence
Annex 3A .SRA example development plan
Annex 3B .SRA example development record
4.Complaints: avoiding and handling
Annex 4A. Complaints clause for client care letter
Annex 4B. Initial risk assessment checklist/ notification form
Annex 4C. Complaints response letter
5.Client care letter - conveyancing
6.Client care letter - employment
7.Client care letter-family
8.Closing letter
9.Change of matter handler letter
10.Cost update letter
11.Terms of business for conveyancing
12.Terms of business for litigation
Appendix A. Lexcel v6 case management checklist
Appendix B. Lexcel v6 self-assessment checklist.
About the Author
Vicky Ling is a chartered quality professional and management consultant. She has worked in the voluntary sector, for local government and the Legal Aid Board. Vicky has been involved with Citizens Advice for over 25 years as a specialist caseworker, mana
Category
Practice management
Published
October 2015
Publisher
Law Society
ISBN
9781784460402
Format
Paperback + CD
120 Pages