You are here
Lexcel Financial Management and Business Planning Toolkit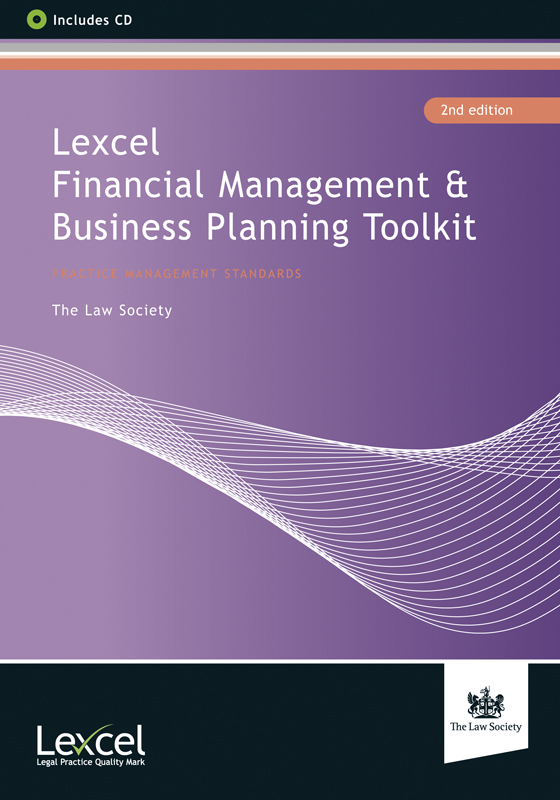 View larger image
Lexcel Financial Management and Business Planning Toolkit
Practice Management Standards, 2nd Edition
Availability: Published
Financial management and business planning are essential to a profitable business. This invaluable Toolkit helps you to implement effective management and planning procedures that are tailored to your firm needs. It offers advice on:
factors to consider before business planning
how to manage the planning process
preparing budgets
depreciation factors and impacts
financial requirements including annual accounts, time recording, procedures for billing clients and procedures for handling financial transactions.
It provides templates on CD, enabling you to customise them as needed. They include:
business plan template
SWOT and PESTLE analysis
project plan template
key performance indicators (KPIs) and measures
budget templates
cash flow examples.
---
Contents
1. The Lexcel requirements for business planning and strategy
2. Why plan? How to plan?
3. Strategy post recession
4. The Lexcel requirements for financial management
5. Responsibility for financial management
6. Budgets
7. Variance analysis - monthly or quarterly management accounts
8. Cash flow forecasts
9. Other financial requirements: Annual accounts; Time recording; Procedures for billing clients and Procedures for handling financial transactions
Appendices.
About the Author
Andrew Otterburn is a leading law firm management consultant who has advised around 250 firms of solicitors and barristers chambers in the UK and Ireland. He has undertaken extensive consultancy work for the Law Society of England & Wales, the Legal Services Commission and the Ministry of Justice. He is vice chair of the Executive Committee of the Law Management Section and a founding member of the Law Consultancy Network.
Category
Practice management
Published
October 2016
Publisher
Law Society
ISBN
9781784460624
Format
Paperback + CD
64 Pages