You are here
Lexcel People Management Toolkit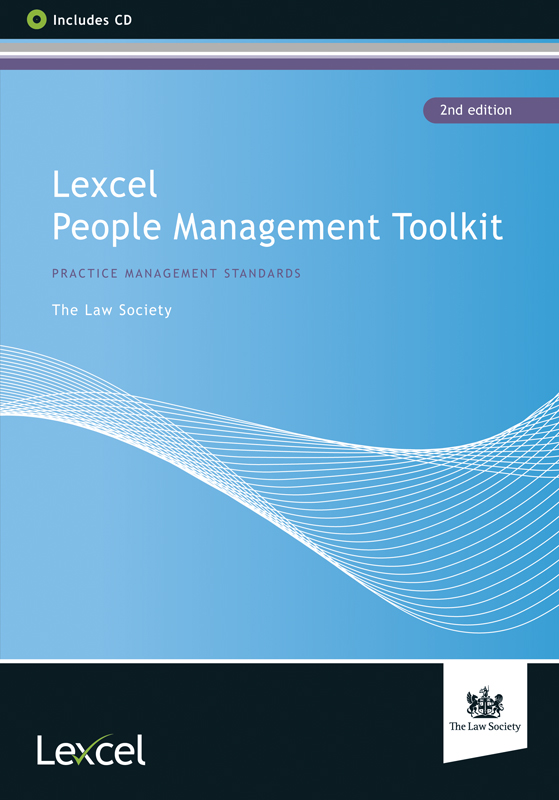 View larger image
Lexcel People Management Toolkit
2nd Edition
Availability: Published
Having the appropriate people management policies and procedures in place makes a real difference to the effectiveness and efficiency of your staff recruitment and retention. It is extremely important for both your employees' development and the management of staff departures.

Lexcel People Management Toolkit, 2nd edition is the essential guide to this area and has been fully updated to Lexcel Version 6. This edition:
contains an assimilation of the 2011 Code of Conduct
reflects the changes as a result of policy and case law
includes a new section on health and safety
incorporates a new section on temporary workers.
This practical toolkit contains templates to help you with staff planning in line with your business needs and will help you to achieve best practice, with or without full Lexcel accreditation.

All of the documents, which can be easily adapted for your own use, are provided on the book's accompanying CD.
---
Contents
1. Planning
2. Learning and development plan
3. Person specifications and job descriptions
4. Recruitment and selection
5. Induction
6. Health and safety
7. Exit interviews and leavers
8. Learning and development policy
9. Performance reviews
10. Temporary workers
Appendices:
1. People Planning
2. Labour turnover and retention analysis
3. Learning and development policy and plan
4. Training request form
5. Training evaluation form
6. Personal development plan
7. Person specification
8A. Job description
8B. Example job description (Partner/Head of Legal)
8C. Example job description (Legal Secretary)
8D. Example job description (Solicitor)
9. Induction policy and checklist
10. Terms and conditions of employment
11. Health and safety checklist.
Category
Practice management
Published
September 2015
Publisher
Law Society
ISBN
9781907698750
Format
Paperback + CD
64 Pages