You are here
Lexcel Risk Management Toolkit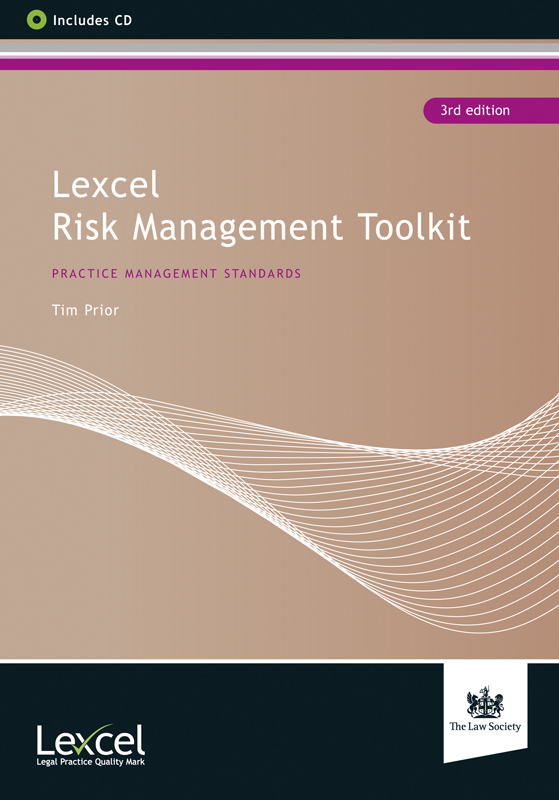 View larger image
Lexcel Risk Management Toolkit
Practice Management Standards, 3rd Edition
Availability: Published
Effective risk management is essential for all legal practices. This book is designed to help your firm to formulate and implement appropriate procedures and policies to identify, mitigate and manage risk.

It contains a number of templates to help manage risk at three levels, as identified by Version 6 of the Lexcel Practice Management Standard. These are strategic risk, operational risk and regulatory risk. This third edition includes:
an anti-money laundering policy which covers the appointment of a nominated officer, usually referred to as a money laundering reporting officer (MLRO)
a procedure for making disclosures within the practice and by the MLRO to the authorities
procedures for checking the identity of the practice's clients
procedures for the proper maintenance of records.
Templates and documents are included on the accompanying CD for easy customisation.

This toolkit is not just for Lexcel firms. It will help you save time and money and your firm achieve best practice with or without full Lexcel accreditation.
---
Contents
1. An introduction to risk management
2. A risk management framework
3. Risk management culture
4. Identifying risk
5. Risk management methodology
6. Risk management
7. Monitoring risk
8. Other important risk areas.
About the Author
Tim Prior is a non-practising solicitor, a Certified Fellow of the Institute of Risk Management and founding director of PNCR Legal. Tim provides training and consultancy to the legal profession, insurance brokers and insurers on risk and regulatory matters.
Category
Practice management
Published
October 2017
Publisher
Law Society
ISBN
9781784460853
Format
Paperback + CD
104 Pages