You are here
Niche Marketing for the Legal Sector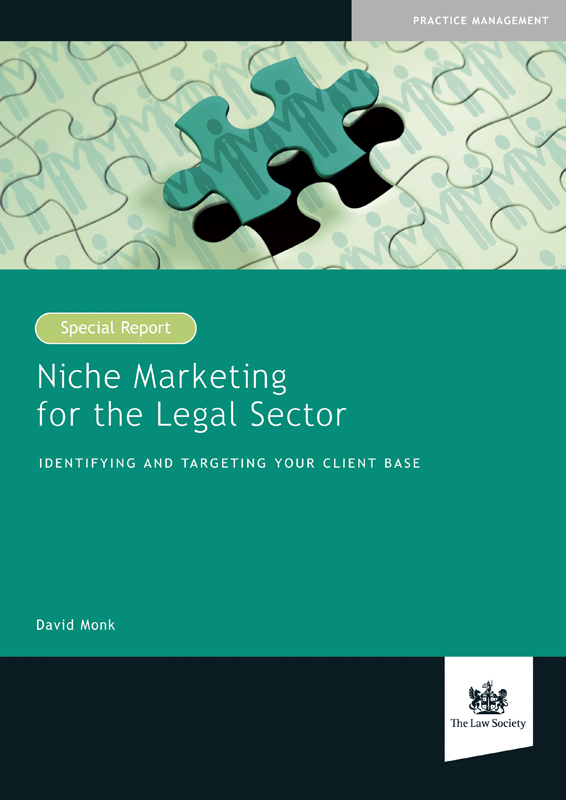 View larger image
Niche Marketing for the Legal Sector
Identifying and Targeting your Client Base
Availability: Published
A niche approach to developing a client base can benefit any law firm, from large practices with many departments to sole practitioners seeking to maximise the benefits they can derive from their resources.

Niche Marketing for the Legal Sector covers a range of techniques, all of which can help law firms develop a clear targeted plan for growth, more efficient focusing of resources and more effective promotional campaigns.

This special report breaks down the widest segments of private and commercial clients. It expands the way in which the market can be looked at and divided in different ways such as by geography, age and gender, etc. and specific product niches such as intellectual property rights or immigration appeals.

Written with busy solicitors in mind, this practical guide provides:
clear summaries of each chapter's key points
real-life examples
suggested actions for adapting techniques to suit individual firms
sample forms to simplify the assessment of a firm's marketing needs.
Niche Marketing for the Legal Sector will benefit any firm looking for a better understanding of marketing and how the niche approach can help them flourish in an increasingly competitive marketplace.
---
Contents
Chapter 1. The way things were
Chapter 2. What is a niche and what is a segment?
Chapter 3. The BIG approach
Chapter 4. The market segment
Chapter 5. The product niche
Chapter 6. The market niche
Chapter 7. The niche tightens
Chapter 8. The profile niche
Chapter 9. Preparing for an approach
Chapter 10. Selling into niche markets
Chapter 11. Some niche player case histories
Chapter 12. Developing your own niche marketing plan.
About the Author
David Monk, CIM, is one of the directors of Marketlaw Ltd and has over 20 years' marketing and practice development experience with solicitors' firms.
Category
Practice management
Published
July 2015
Publisher
Law Society
ISBN
9781784460105
Format
Paperback
128 Pages