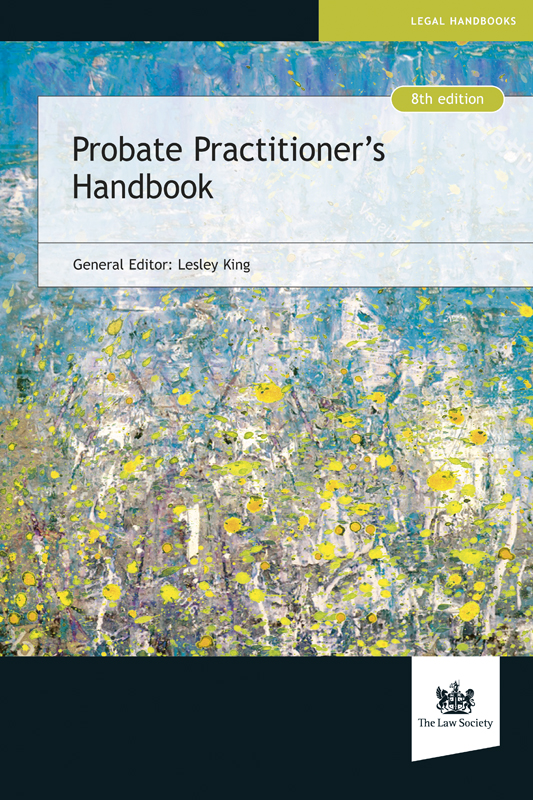 View larger image
Probate Practitioner's Handbook (EPUB)
8th Edition
Availability: Published
The Probate Practitioner's Handbook is a well-established and popular guide to good practice for solicitors' firms that undertake probate and estate administration work.

This eighth edition has been comprehensively updated by leading experts to take account of developments relating to:
money Laundering Regulations, including the requirements of the Trusts Registration Service
probate disputes and Inheritance Act claims including the implications of the supreme court decision in Ilott v The Blue Cross and Others
inheritance tax including implications of the new residence nil rate band for those administering estates
the new Guardianship (Missing Persons) Act 2017 and the procedure for declarations of death under the Presumption of Death Act 2013
proposed changes to probate fees.
New chapters have been written to cover two increasingly important areas:


the obligations of personal representatives in relation to digital assets
dealing with foreign assets, domicile and residence issues.

Features such as checklists, precedents, case commentaries and examples enhance the book's usefulness.
---
Contents
Part I - Probate and the professional rules:
1. Wills and Inheritance Protocol
2. Taking instructions
3. Client care
4. Non-contentious costs
5. Complaints
6. Financial services and money laundering
7. SRA Accounts Rules 2011.
Part II - Probate, wills and the law:
8. The law on wills and succession: a review
9. Revocation and revival of wills
10. Interpretation and rectification of wills
11. Time for probate
12. Appointing guardians of children
13. Probate and benefits
14. Claims under the Inheritance (Provision for Family and Dependants) Act 1975
15. Contentious probate.
Part III - Practical probate:
16. Inheritance tax
17. Varying the disposition of an estate
18. Probate problems
19. Accounting and distributing
20. Probate practice checklists
21. Accounting and distributing
22. Probate practice checklists.
Appendices.
About the Author
Professor Lesley King is a well-known and respected commentator and lecturer on private client matters. Lesley is an authoritative and clear communicator, with a number of publications to her credit.
Category
E-books
Published
June 2018
Publisher
Law Society
ISBN
9781784461195
Format
eBook
608 Pages