You are here
Solicitors' Accounts Manual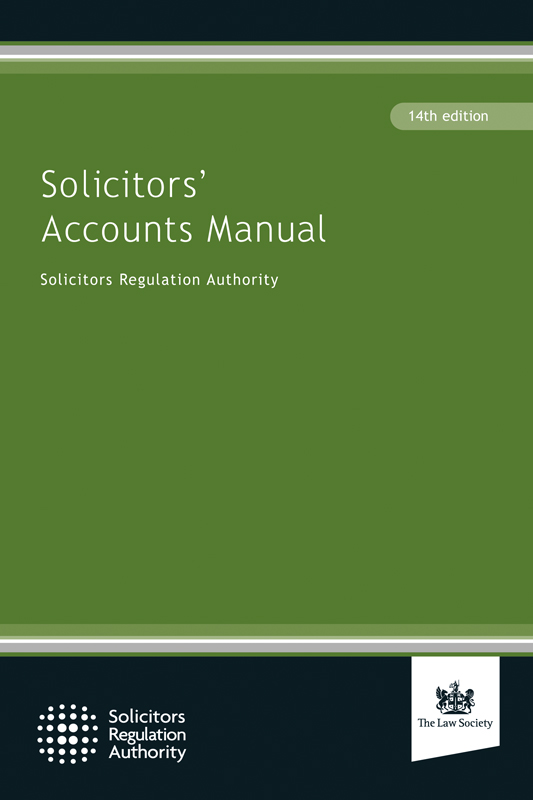 View larger image
Solicitors' Accounts Manual
14th Edition
Availability: Published
This edition of the Solicitors' Accounts Manual takes account of changes to the Accounts Rules since June 2015 (Versions 15-18 of the SRA Handbook), including:
the exemption of some firms from the requirement to obtain an accountant's report
the removal of rigid restrictions on the format of the report to allow the accountant to exercise their professional judgement and concentrate on risks to client money
the simplification of the overseas accounting requirements.
In addition to these main changes, new additions to the Annexes include:
the SRA Overseas Accounts Rules 2013
new SRA warning notice (money missing from a client account)
new SRA form AR1: accountant's reporting form
new guidance on completing the annual accountant's report, including the transitional arrangements
new Law Society practice notes on residual client balances (January 2016) and protection for client accounts (January 2016).
This is an official source of reference from the Solicitors Regulation Authority, which is relevant to every solicitors' practice.
---
Contents
1. SRA Accounts Rules
2. SRA Principles and Code of Conduct
3. SRA Glossary
4. Holding client money and accounting to clients
5. Charging clients and paying tax
6. Compliance
7. Further sources of information and support (Index to the Accounts Rules).
Category
Regulation and compliance
Published
December 2016
Publisher
Law Society
ISBN
9781784460563
Format
Paperback
248 Pages