You are here
SRA Standards and Regulations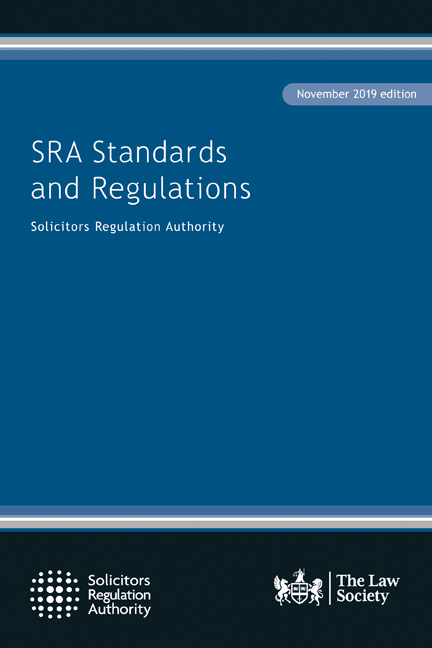 View larger image
SRA Standards and Regulations
November 2019 Edition
Availability: Forthcoming
The new SRA Standards and Regulations sets out the requirements that solicitors are expected to adhere to when practising, working with clients and in the public interest. The significant changes in this new edition include the division of the single Code of Conduct in to one for individuals and one for entities and the removal of restrictions on where solicitors can practise. This text is essential reading for all solicitors to ensure that they are complying with the rules set down by the Solicitors Regulation Authority.
SRA Standards and Regulations contains:
SRA Principles
SRA Code of Conduct for Solicitors, Registered European Lawyers (RELs) and Registered Foreign Lawyers (RFLs)
SRA Code of Conduct for Firms
SRA Accounts Rules
SRA Application, Notice, Review and Appeal Rules
SRA Assessment of Character and Suitability Rules
SRA Authorisation of Firms Rules
SRA Authorisation of Individuals (Amendment) Regulations
SRA Education, Training and Assessment Provider Regulations
SRA Financial Services (Conduct of Business) Rules
SRA Financial Services (Scope) Rules
SRA Overseas and Cross-Border Practice Rules
SRA Regulatory and Disciplinary Practice Rules
SRA Statutory Trust Rules
SRA Roll, Registers and Publication Regulations
SRA Transparency Rules
SRA Compensation Fund Rules
SRA Indemnity Insurance Rules
SRA Glossary
SRA Glossary for SRA Compensation Fund Rules and SRA Indemnity Insurance Rules (including the MTC).
---
Contents
• SRA Principles
• SRA Code of Conduct for Solicitors, RELs and RFLs
• SRA Code of Conduct for Firms
• SRA Accounts Rules
• SRA Application, Notice, Review and Appeal Rules
• SRA Assessment of Character and Suitability Rules
• SRA Authorisation of Firms Rules
• SRA Authorisation of Individuals Regulations
• SRA Education, Training and Assessment Provider Regulations
• SRA Financial Service (Conduct of Business) Rules
• SRA Financial Services (Scope) Rules
• SRA Overseas and Cross-Border Practice Rules
• SRA Regulatory and Disciplinary Procedure Rules
• SRA Statutory Trust Rules
• SRA Roll, Registers and Publication Regulations
• SRA Transparency Rules
• SRA Compensation Fund Rules
• SRA Indemnity Insurance Rules
• SRA Glossary
• SRA Glossary for SRA Compensation Fund Rules and SRA Indemnity Insurance Rules (including the MTC)
• SRA Indemnity Rules 2012
• SRA Indemnity Enactment Rules 2012
Category
Regulation and compliance
Published
January 2020
Publisher
The Law Society
ISBN
9781784461331
Format
Paperback
208 Pages