You are here
The Future of the In-house Lawyer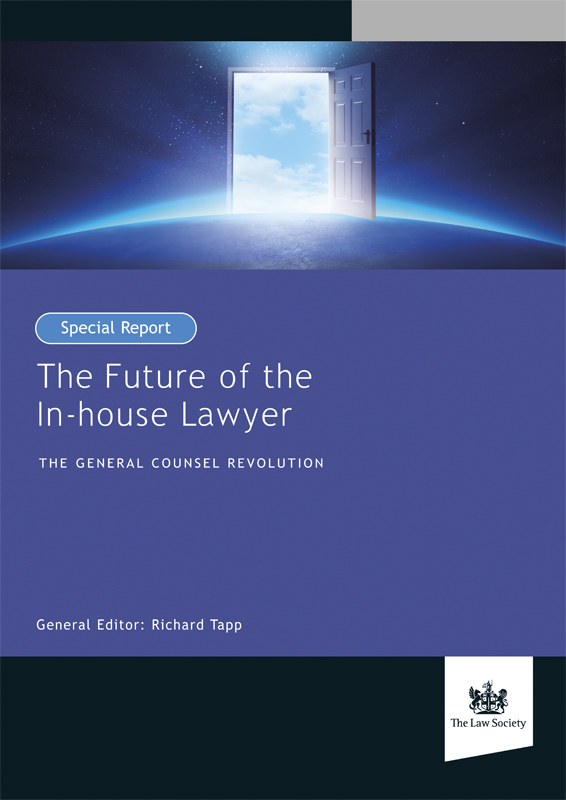 View larger image
The Future of the In-house Lawyer
The General Counsel Revolution
Availability: Published
This special report offers a collection of essays by in-house counsel from a variety of different types of organisations. It will be of interest to all in-house lawyers, regardless of where they work or their role within their organisation.

The range of topics covered is diverse and includes:
strategy and change in organisations
supporting the businesses GC's serve
legal and ethical challenges
managing change and transition
the future of the legal market for in-house roles
sourcing the skills GCs need.
The articles have been written by a variety of leaders in the field including:
top 100 companies
banking
retail
local government
large charities
universities.
---
Contents
1.The general counsel revolution, Richard Tapp, Carillion plc
2. The future legal market and the role of in-house lawyers, Professor Stephen Mayson, UCL
3. The revolution in legal (re)sourcing, Robin Saphra, Colt Group SA
4. Legal risk: some ethical challenges, Professor Richard Moorhead, UCL and Stephen Vaughan, University of Birmingham
5. Shaping the organisation - the general counsel's role, Rosemary Martin, Vodafone plc
6. The in-house team ? the need to run faster, Donny Ching, Royal Dutch Shell PLC
7. The general counsel in the regulated company, Suzanne Wise, Network Rail
8. Leadership beyond the law, Deepak Malhotra
9. The role of the general counsel - the view from a law firm, Chris Saul and William Underhill, Slaughter and May
10. The in-house lawyer and systems ? quality, technology and more, Bruce MacMillian, Legal Practice Technologies
11. The general counsel in local government, David Tatlow, Birmingham City Council
12. The general counsel in a large financial institution, Kate Cheetham, Lloyds Banking Group plc
13. The new general counsel, Andrew Lewis, IGC plc
14. The changing role of in-house counsel, Maaike de Bie, Royal Mail Group plc
15. The general counsel in a global charity, Joss Saunders, Oxfam
16. The chief executive's view of the GC, Alistair Cox, Chief Executive, Hays plc
17. Innovation and the general counsel, Reena Sengupta, RSG Consulting
18. Crisis and the legal department, Stathis Mihos, Pfizer Hellas SA
19. Stepping out or up? How to make a successful transition, Sally Woodward, Sherwood Consulting
Further reading and contacts.
About the Author
Richard Tapp is a chartered secretary and a solicitor. He has worked at the National Coal Board, Imperial Foods, Blue Circle industries plc and is now director of Legal Services at Carillion plc.
Category
Practice management
Published
April 2016
Publisher
Law Society
ISBN
9781784460525
Format
Paperback
128 Pages