You are here
The Solicitors Disciplinary Tribunal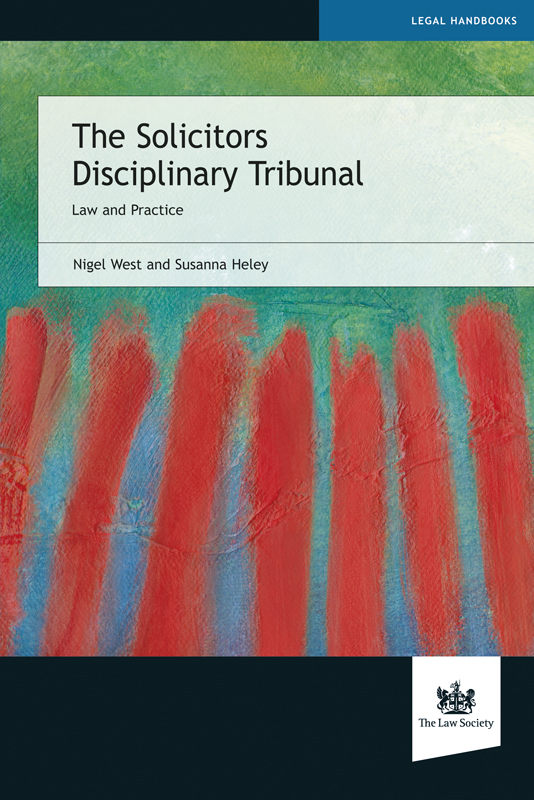 View larger image
The Solicitors Disciplinary Tribunal
Law and Practice
Availability: Published
The Solicitors Disciplinary Tribunal (SDT) has the power to strike off a solicitor from the roll, suspend a solicitor from practice, fine or reprimand a solicitor or make such other order as it thinks fit. Whilst over 90% of all cases brought before the SDT are brought by the SRA, it is open to anyone to bring a matter before it.

This book provides a unique step-by-step guide to the law and practice of the Solicitors Disciplinary Tribunal, from the issue of proceedings through to appeal. Its practical approach will help anyone who wishes to avoid the common pitfalls faced by unfamiliar users of the Tribunal.

It is the only comprehensive book available on SDT proceedings and it contains all the leading cases on Tribunal proceedings, many of which are not available on the internet, in one handy volume.
---
Contents
Foreword by Lord Neuberger, president of the Supreme Court
1. Constitution of the Solicitors Disciplinary Tribunal
2. The SRA decision to prosecute
3. Jurisdiction, issue and service
4. Public hearings and publicity
5. Rule 5 statements, answers and witness statements
6. Standard Directions and Practice Direction No 6
7. Disclosure
8. Interim applications
9. Evidence
10. Dishonesty cases
11. Other types of misconduct
12. Section 43 Orders
13. Settlements
14. The trial
15. Sanctions
16. Costs
17. Appeals from the SDT
18. Termination of an indefinite suspension
19. Restoration
20. Appeals to the SDT.
Appendix:
1: Solicitors (Disciplinary Proceedings) Rules 2007 (SI No 3588)
Appendix 2: Solicitors Act 1974 (ss 46?49A)
Appendix 3: Advertisement under rule 9(5) of the SDPR
Appendix 4: Useful contacts.
About the Author
Nigel West is head of the Solicitors Disciplinary Group at RadcliffesLeBrasseur. The firm is recognised as a Tier I firm for Professional Discipline in Chambers and the Legal 500. He is also the head of commercial litigation and a partner in the firm. Nigel has acted for solicitors facing disciplinary proceedings for over twenty years. He sits as a defence representative on the Tribunal's User Group and he is a member of the Law Society's Regulatory Processes Committee. He is also the cases editor for the Law Society's Legal Compliance Bulletin. Susanna Heley is a partner in the Solicitors Disciplinary Group at RadcliffesLeBrasseur. Susanna regularly appears as a defence advocate in the Tribunal and she has lectured on solicitors' regulatory matters in England and Europe. She is a former president of the City of Westminster and Holborn Law Society and she is the secretary of the Solicitor's Assistance Scheme.
Category
Regulation and compliance
Published
December 2015
Publisher
Law Society
ISBN
9781907698958
Format
Paperback
384 Pages