You are here
The Solicitor's Handbook 2017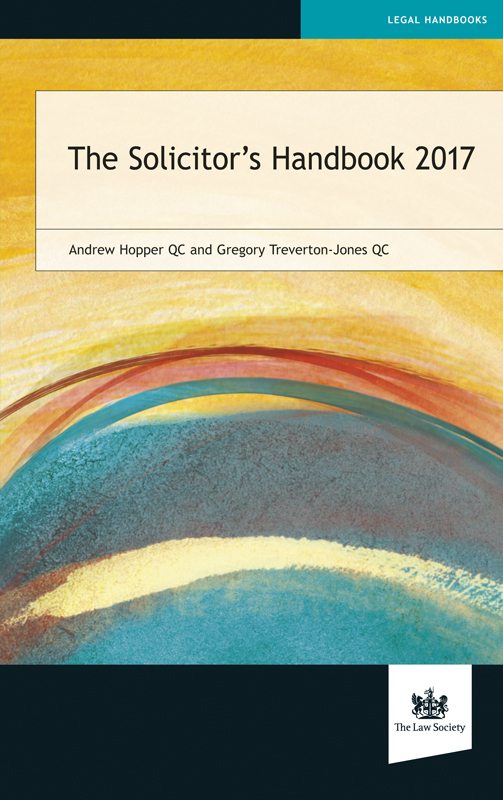 View larger image
The Solicitor's Handbook 2017
Availability: Published
The Solicitor's Handbook 2017 is a comprehensive yet user-friendly guide to the regulatory maze that governs the conduct of solicitors.

This invaluable resource includes expert commentary from leading practitioners on every aspect of the regulation of solicitors, which will help you ensure compliance within your firm. The 2017 edition takes account of significant regulatory changes introduced since December 2014, including:
new commentary on the likely move back by the SRA from entity regulation to regulation of individuals
the changes to the separate business rule and what this means for firms
key changes to consumer credit regulation - the impact on firms
new section on the new entrant ABS or entity regulators of solicitors (in entities regulated by BSB and ICAEW)
expected changes to the SRA Handbook including an overhaul of the Accounts Rules
inclusion of a new section on cyber fraud.
This book will provide an explanation of the impact of these significant changes, together with commentary with reference to practical problems.
---
Contents
Part 1. Overview
Part 2. The Principles and the SRA Code of Conduct 2011
Part 3. Other rules
Part 4. The regulatory system in practice
Part 5. The disciplinary system in practice
Part 6. The regulation of ABSs
Part 7. Fraud and money laundering
Appendices.
About the Author
Andrew Hopper QC was admitted as a solicitor in 1972 and was appointed Queen's Counsel in 2001(the first solicitor advocate to be appointed Silk outside the City of London). He specialised in the field of professional regulation and discipline and was a member of the Law Society's Regulatory Affairs Board. Gregory Treverton-Jones QC is a barrister at 39 Essex Street and was called to the Bar in 1977, and was appointed Queen's Counsel in 2002. He has practised in the field of professional discipline and regulation since the early 1990s. He has been instructed in many of the leading cases arising out of the professional conduct of solicitors, appearing both for and against the Law Society in applications for judicial review statutory appeals, and challenges to interventions.
Category
Regulation and compliance
Published
30/09/2016
Publisher
Law Society
ISBN
9781784460556
Format
Paperback
816 Pages