You are here
The Solicitor's Handbook 2019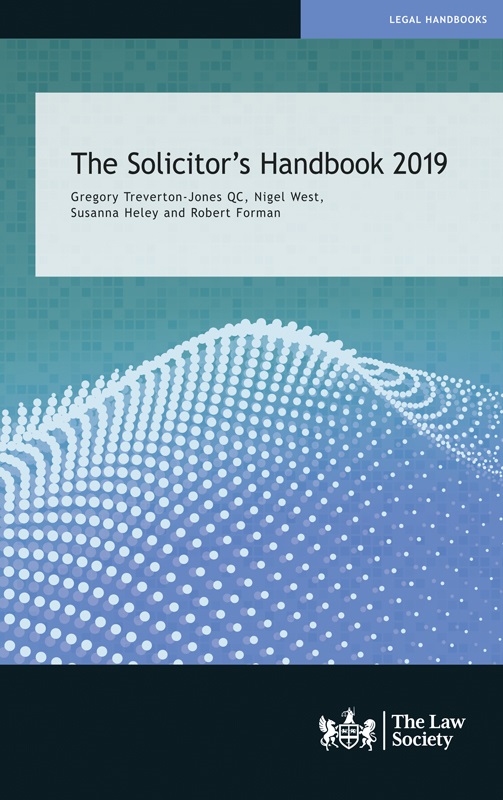 View larger image
The Solicitor's Handbook 2019
The authoritative commentary on the new SRA Standards and Regulations
Availability: Published
The Solicitor's Handbook is a comprehensive guide to the regulations governing the conduct of solicitors. The 2019 edition has been updated to take account of all the key regulatory developments which have taken place since the publication of the 2017 edition, and in particular the major changes that are being introduced in the SRA Standards & Regulations.
This user-friendly guide offers coverage on topics including:
the regulatory and disciplinary landscape
the regulation and authorisation of business
the SRA Principles 2019 
The SRA Code of Conduct for solicitors RELs and RFLs 2019 
The SRA Code of Conduct for firms 2019 
the SRA Accounts Rules 2019
data protection
the regulatory system in practice
fraud and money laundering
the regulation of Alternative Business Structures (ABSs).
---
Reviews
"The book takes the reader through the history and evolution of the regulatory framework up to the current day... For those proactively taking steps to mitigate compliance risks in practice to those reacting to an approach from the SRA there is comprehensive information and guidance. The text is accessible, informative and entertaining. This is a publication that every firm should own."
Helen Carr, 31 October 2019, The Law Society - Risk and Compliance Service feature
Contents
Part 1 Overview
1. The regulatory and disciplinary landscape 3
2. The regulation and authorisation of business entities 7
Part 2 The SRA Principles and Codes
3. Overview of the Principles and the Codes 27
4. The SRA Code of Conduct for Solicitors, RELs and RFLs 35
5. The SRA Code of Conduct for Firms 00
Part 3 Other rules
6. The SRA Accounts Rules 2019 123
7. Compliance officers (COLPs and COFAs) 137
8. Financial services regulation 149
9. Property selling 163
10. Overseas and European cross-border practice 167
11. Professional indemnity insurance 171
12. Registered European lawyers and registered foreign lawyers 181
13. Regulation by other approved regulators 185
Part 4 The regulatory system in practice
14. The Legal Ombudsman 193
15. SRA investigations 207
16. Practising certificate controls and removal of a solicitor's name from the Roll 219
17. Intervention and orderly closure 233
18. Control of solicitors' employees 251
Part 5 The disciplinary system in practice
19. Professional misconduct, its forms and formulation 259
20. SRA-imposed sanctions 263
21. Proceedings before the SDT: (1) pre-trial 271
22. Proceedings before the SDT: (2) trial, sanctions, costs and appeals
23. Proceedings before the SDT: (3) appeals to the Tribunal 319
24. Disciplinary jurisdiction of the High Court 333
Part 6 The regulation of ABSs
25. Alternative business structures: getting started 339
26. Alternative business structures: discipline and enforcement 343
Part 7 Fraud and money laundering
27. The risks of fraud 353
28. Money laundering 365
Part 8 Appendices
About the Author
Gregory Treverton-Jones, QC is a barrister at 39 Essex Chambers. Nigel West and Susanna Heley are partners at RadcliffesLeBrasseur. Robert Forman is a senior consultant at Murdochs Solicitors.
Category
Regulation and compliance
Published
September 2019
Publisher
Law Society
ISBN
9781784461010
Format
Paperback
864 Pages