You are here
Varying the Disposition of an Estate after Death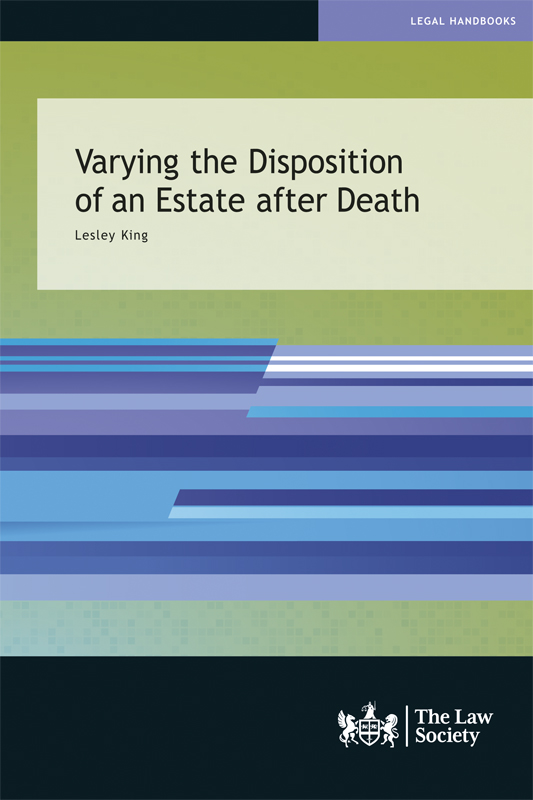 View larger image
Varying the Disposition of an Estate after Death
Availability: Published
The way in which property has been left on death is often unsatisfactory, either because the personal circumstances of family members have changed or because tax legislation has altered. The introduction of the residence nil rate band in 2017 means that many wills prepared before that date are now unsuitable.
However, families are not necessarily stuck with an unsuitable result. Statutory provisions exist which allow the way assets have been left to be altered after death to achieve a better result.
Varying the Disposition of an Estate after Death provides invaluable help to those advising clients about the opportunities, implications and pitfalls of varying the disposition of estates using variations and disclaimers.
To help you in your work, inheritance tax, capital gains tax, income tax, stamp duty, trusts and their implications are also fully considered.
The book explains:
the alternative provisions available (IHTA 1984, ss. 142, 143, 144 and 146);
which provision should be selected;
the formalities required;
what can be achieved by each section of the Act; and
the pitfalls.
A full suite of precedents is included.
---
Reviews
The book is concise yet detailed, whilst being easy to read and navigate. It contains helpful tips and guidelines and warns against potential pitfalls, making it a useful tool to assist private client lawyers to steer through the minefield of variations after death. Practitioners will find the precedents contained therein to be most useful. This book should be welcomed on any estate practitioner's bookshelf.
Sangeeta Rabadia, Senior Consultant in the Private Wealth Department at Allard Bailey Family Law.
I would recommend this book to all private client solicitors, especially those not varying estates regularly. As well as identifying potential pitfalls for the unwary, it encourages the reader to consider how they can broaden their services to add extra value in probate work.
Gareth Marland, Legal Director at Clarion Solicitors.
Contents
Part 1: Introduction:
2. Why do statutory provisions dealing with post-death alteration of dispositions exist?
Part 2: Variations and disclaimers:
2. Difference between a disclaimer and a variation;
3. Variations and inheritance tax;
4. Disclaimers and inheritance tax;
5. Variations, disclaimers and capital gains tax;
6. Variations, disclaimers and income tax;
7. Variations, disclaimers and stamp duties;
8. Variations and disclaimers in action;
9. When it all goes wrong: curing mistakes;
Part 3: Compliance with testator's request and orders under Inheritance (Provision for Family and Dependants) Act 1975:
10. Compliance with testator's request
11. Orders under Inheritance (Provision for Family and Dependants) Act 1975;
Part 4: Property leaving a relevant property trust within two years of death:
12. Inheritance Tax implications;
13. Capital Gains Tax implications;
14. Some examples of section 144 in action;
Appendices;
Precedents.
About the Author
Professor Lesley King is a well-known and respected commentator and lecturer on private client matters. She is an authoritative and clear communicator with a number of publications to her credit including the Probate Practitioner's Handbook, 8th edition.
Category
Private client
Published
January 2020
Publisher
The Law Society
ISBN
9781784461416
Format
Paperback
152 Pages