You are here
Advising Clients with Mental Health Conditions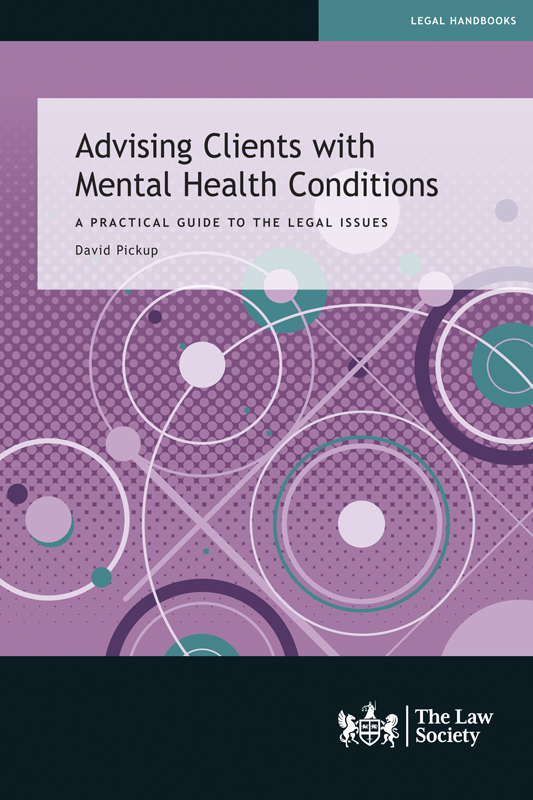 View larger image
Advising Clients with Mental Health Conditions
A practical guide to the legal issues
Availability: Forthcoming
Advising Clients with Mental Health Conditions is designed to aid solicitors to advise clients who have mental health problems, and their carers, and to assist the solicitors who represent clients at Mental Health Tribunals with the many other legal issues they may have.
The book provides practical advice on topics such as admission to and discharge from hospital and visiting clients in a hospital environment; provision of, access to and complaints about services and advising carers and relatives.
It covers interaction with other legal areas such as criminal; wills, probate, trusts and gifts; marriage and family; immigration; housing; employment and legal aid. It also includes chapters on Mental Capacity Law and the Mental Health Act 1983, as well as the interaction between Human Rights laws and mental health and a chapter highlighting the differences in mental health law and practice in Wales.
Clients with mental health conditions are entitled to the same quality advice and respect as any other client. This clear and practical book will assist  practitioners with a guide to common legal problems that clients with mental health problems experience and how to approach them to ensure vulnerable clients receive excellent advice.
---
Contents
1. Introduction; 2. Advising clients with mental health conditions; 3. Handling complaints and concerns about services; 4. Human rights and mental health; 5. Advising the carer and relative; 6. Mental capacity law; 7. Mental Health Act 1983; 8. The criminal law; 9. Habeas Corpus and judicial review; 10. Contract and tort; 11. Debt and money; 12. Legal aid; 13. Wills, probate, trusts and gifts; 14. Marriage and family matters; 15. Immigration; 16. Housing and benefits; 17. Children and young people with a mental health condition; 18. Employment; 19. Provision of services and funding on discharge from hospital; 20. Participation in society; 21. Law and practice in Wales; 22. Dealing with stress.
About the Author
David Pickup is senior partner and head of the mental health department in his firm (Pickup and Scott Solicitors) and is an experienced representative at Mental Health Tribunals and sits as a part time tribunal judge.
Category
Mental health
Published
June 2022
Publisher
The Law Society
ISBN
9781784461911
Format
Paperback
280 Pages