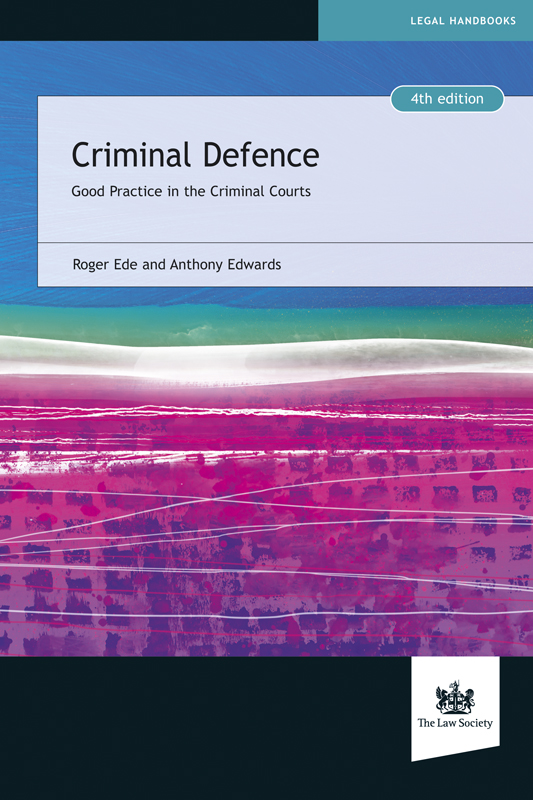 View larger image
Criminal Defence
Good Practice in the Criminal Courts, 4th Edition
Availability: Published
Criminal Defence offers a step-by-step guide to practice and procedure in all of the criminal courts.

It covers the role of the defence solicitor in detail, from shaping a case at the police station, to preparing for trial and finally action after acquittal or conviction and sentence. It also contains specific chapters on youths and clients at a disadvantage.

This book is a best practice guide to being a criminal solicitor and complements the goals of the Law Society's Criminal Law Accreditation Scheme.
---
Reviews
A really practical, helpful and comprehensive guide to good practice in the Criminal courts.
Bill Waddington, Chair of CLSA, December 2017
"...this is the book that you can have in your office and your bag to check anything that comes up, whenever or wherever you are."
Daniel Bunting, UK Criminal Law Blog
Contents
1. The defence solicitor
2. Legal and professional duties
3. Obtaining core information for the file
4. Maintaining file quality
5. Managing the case
6. Shaping the case in the police station
7. Funding the case
8. The defendant in custody
9. Advising your client to plead guilty or not guilty; and on likely sentences if convicted
10. Choosing a place of trial
11. Preparing for sentence: plea of guilty or conviction
12. Directions and case management for trial: special measures, bad character and hearsay
13. Preparing for trial: analysing witness testimony and obtaining disclosure
14. Preparing for trial: gathering evidence and analysing physical material
15. Preparing for a Crown Court trial: process issues
16. Youths
17. Clients at a disadvantage
18. Action after acquittal or conviction and sentence
Appendices.
About the Author
Roger Ede was formerly the secretary to the Law Society's Criminal Committee and is now a District Judge (magistrates' courts) in Sussex. Anthony Edwards is the senior partner in a leading criminal practice, TV Edwards, and is an established author, lecturer and trainer. He is a member of the Sentencing Guidelines Council.
Category
Criminal
Published
July 2017
Publisher
Law Society
ISBN
9781784460891
Format
Paperback
424 Pages