You are here
In-house Lawyers' Toolkit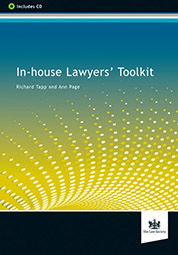 View larger image
In-house Lawyers' Toolkit
Availability: Published
The In-house Lawyers' Toolkit is the only precedent and toolkit resource available which is exclusively devoted to the requirements of this important, growing sector.

This unique toolkit provides an accessible, relevant resource for both new and experienced in-house practitioners to work from, adapt, and to act as a catalyst for their thinking to provide timely, high quality and cost-effective advice to their organisation. In particular, it will lead the practitioner through the processes of managing an in-house function, including:
the development of a strategy for legal services in your organisation
how to decide what legal services to buy, and from where
appointing, reviewing, managing and ending Panel relationships
working with alternative legal sourcing providers
managing the in-house team, and
leveraging and demonstrating value.
The book is accompanied by a CD which contains valuable and time-saving precedents allowing the reader to identify and implement best practice in their own in-house environment, and to develop and adapt systems and processes as appropriate.
---
Contents
1. Introduction
2. Strategy - sourcing and allocating external legal services
3. Briefing, tendering and evaluation of panels
4. Leveraging value from external providers
5. Managing the relationship
6. Reviewing the panel
7. Ending the relationship
8. Alternative legal service providers
9. Managing the in-house team
10. Demonstrating value
11. Law Society protocol on legal procurement
12. Where to find out more.
About the Author
Richard Tapp is a chartered secretary and a solicitor. He has worked at the National Coal Board, Imperial Foods, Blue Circle Industries plc and is now director of legal services at Carillion plc. Ann Page is a solicitor who has held senior in-house legal positions at Crest Homes, Next plc, the Abbey National and the Co-operative Bank. She now runs Managing External Legal Resources, a professional development and training consultancy specifically for in-house solicitors.
Category
Practice management
Published
October 2014
Publisher
Law Society
ISBN
9781784460006
Format
Paperback + CD
160 Pages