You are here
Smarter Legal Marketing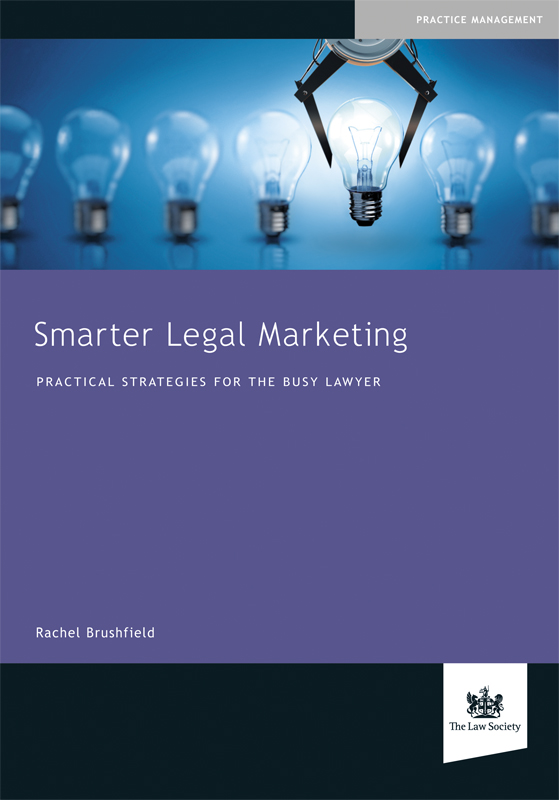 View larger image
Smarter Legal Marketing
Practical Strategies for the Busy Lawyer
Availability: Published
This practical book shares insights, smart strategies and tips to help you to market yourself and maximise your chances of career success.

It provides step-by-step guidance to help you to understand and overcome any misperceptions about marketing, manage your time to fit marketing into your busy schedule, understand and build your personal brand, and achieve excellent results. The book covers:
what marketing is
why it is essential to put yourself in your clients' shoes
the importance of having a personal brand
how to make networking work for you
what blocks lawyers have about marketing and how to overcome them
how to fit marketing into your hectic schedule, without ruining your work-life balance, and manage it expediently
how LinkedIn can help you to create visibility online and build your reputation
how content marketing fits with your overall marketing strategy and plan.
Written by an experienced mentor and coach, with in-depth knowledge and experience of the legal profession, this book is an essential read for fast changing times and more competition. It is designed to help you to develop the marketing skills, knowledge and practical 'how-tos' that lawyers need to master today more than ever before, whatever your level or specialism.
---
Contents
1. Marketing
2. Clients
3. Brand
4. Blocks about marketing
5. Networking
6. Time management
7. Social Media – LinkedIn
8. Content marketing.
About the Author
Rachel Brushfield is The Talent Liberator and is the founder of Energise – The Talent Liberation Company. Rachel helps lawyers to overcome their actual and perceived blocks about marketing themselves to create/enhance professional and career success. She has over 30 years' experience including 17 years' focus on the legal profession. Her career heritage is in marketing and brand strategy and communications outside the law, so providing fresh insights and tools for lawyers.
Category
Practice management
Published
October 2018
Publisher
Law Society
ISBN
9781784461225
Format
Paperback
128 Pages