You are here
Unbundling Family Legal Services Toolkit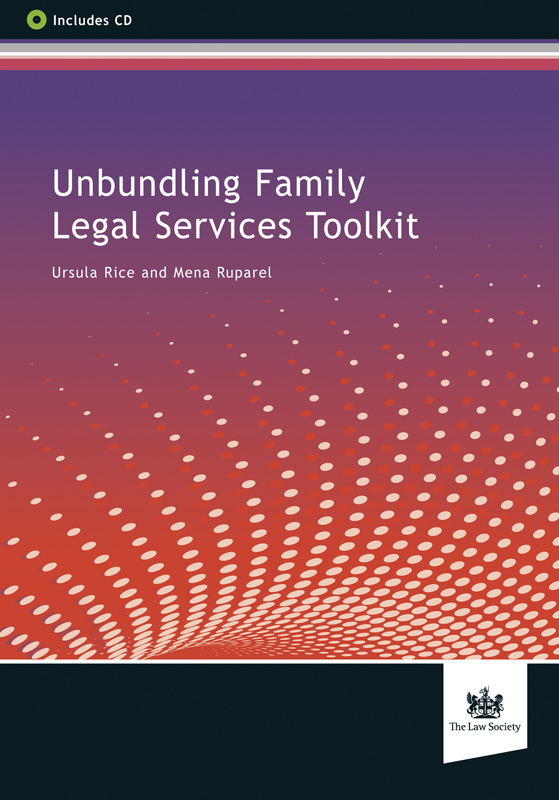 View larger image
Unbundling Family Legal Services Toolkit
Availability: Published
---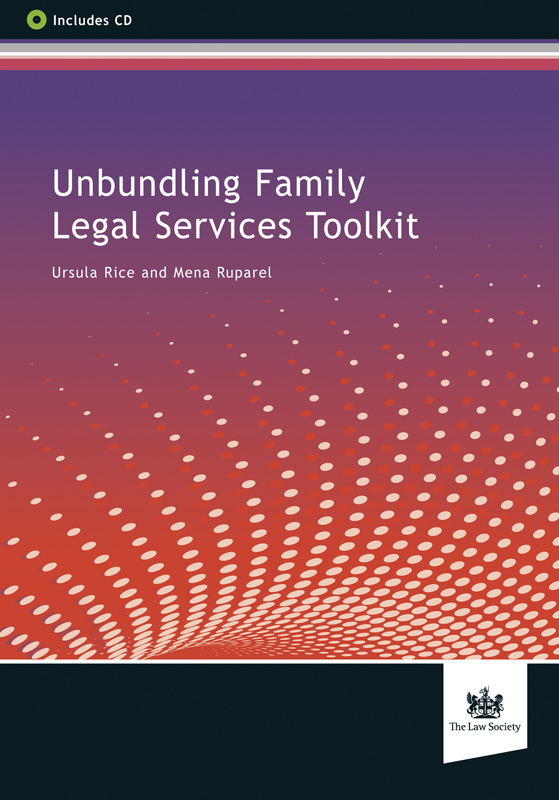 ---
With significant changes to public funding and the rise of litigants in person, many practitioners are looking to provide services on a 'pay as you go' or 'fixed fee' basis for discrete or separate pieces of work. 'Unbundling' is an approach whereby the solicitor and client agree which parts of the process the client can undertake without assistance, and which parts they will require some input from a solicitor. This approach is growing in the area of family law.

This toolkit provides a suite of tools to assist family solicitors considering unbundling work and new methods of pricing while pointing out the potential risks and how to minimize them. Practical and concise, it contains useful templates and checklists for solicitors wishing to offer unbundled services as a more affordable alternative to the traditional retainer and hourly rates pricing strategy.
---
Contents
1. Introduction 2: What is Unbundling? Draft client self-help pack; Checklists 3. Risks of Unbundling; Unbundled service agreement; Draft retainer; Written record of information provided by the client; Disclaimer 4. Professional Conduct; Client care letter templates; Notice letter to PII insurers; Complaints procedure; Notice to terminate retainer with client 5. Pricing and Fees; PAYG model template of fees; Client letter regarding fees; Checklist on office/client accounts; Sample pricing structure; Advocacy fee structure template; Checklist of unanticipated fees 6. Providing Unbundled Services; Schedule of services provided; Schedule of services not provided; Advice checklist on client progressing matter themselves 7. Unbundled Representation at Court; Advocacy agreement template; Professional McKenzie Friend agreement template; Specimen letter to judge; Standard letter to opponent on instruction of an advocate 8. Other Help; Law Society practice note, 'Unbundling Family Legal Services'.
---
About the Author
Ursula Rice is a solicitor and solicitor-advocate, practising in the field of family law. She is the owner and manager of Family First Solicitors Limited. She was an early adopter of unbundled services, successfully marketing this innovative method of retaining and developing business since 2011. Mena Ruparel is the Chief Assessor of the Law Society Family and Advanced Family Accreditation Scheme. She also sits on the Law Society Family Committee and is the Chief Examiner of the CILEx Level 6 Family Law.
infoProduct information
Category
Family and social welfare
Published
September 2016
Publisher
Law Society
ISBN
9781784460358
Format
Paperback + CD
96 Pages