You are here
Client Care in Conveyancing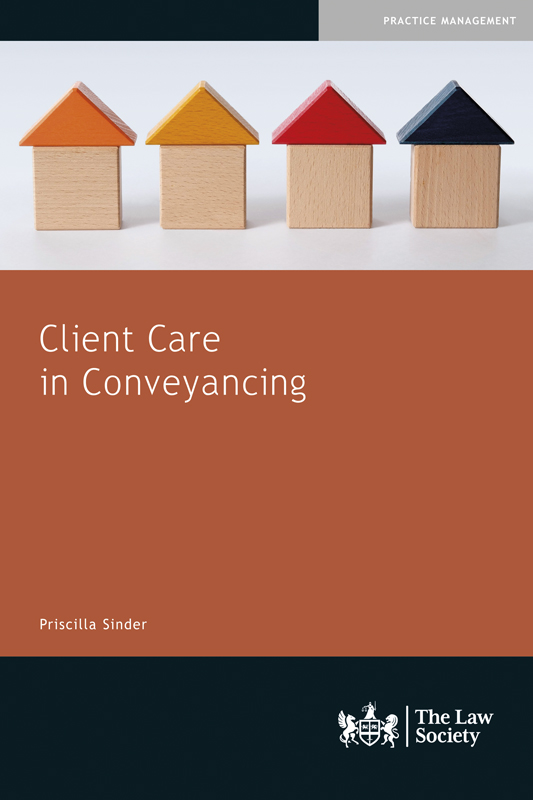 View larger image
Client Care in Conveyancing
Availability: Forthcoming
Client Care in Conveyancing will help you to perfect your client care skills during the conveyancing process. This valuable insight will allow you to anticipate and act on your client's expectations and ensure that they are receiving the best conveyancing service you have to offer.
It will show you how to improve the less successful aspects of your conveyancing service and includes guidance on regulatory issues such as price transparency (as highlighted by the SRA).
New digital technology will play a much bigger role in conveyancing in the future and this book provides an introduction into how technology can be brought into the workplace making it a key part of a firm's infrastructure for growth.
Packed full of case studies, practical examples and essential tips, this book will guide you through:
the consumer's perspective of finding and choosing a solicitor;
improving client information and communication;
making quality a tangible instrument and understanding how it is perceived through the eyes of your client;
handling complaints;
anticipating and acting on changes to the digital landscape; and
implementing new methods for conveyancing in the future.
---
Reviews
From the choice of solicitor, tips on improving information and communication and quality of service, digitalization and thoughts on best practice and the future landscape, the book has something of everything in it, and in just the right amount.
Anna Newport, Solicitor, Newport Land and Law Limited
Well researched, detailed and full of useful suggestions. Written by Priscilla Sinder, well known and respected within the legal profession. If you care about client care, well worth a read.
Rob Hailstone, Bold Legal Group
Contents
1. How do consumers choose a solicitor? 2. Improving your information and communication; 3. Quality of service; 4. Complaints and redress; 5. Digitisation: opportunities, risks and the future; 6. An improved conveyancing system; Appendices.
About the Author
Priscilla Sinder is the managing director of an outsourced company working with law firms to improve their conveyancing process and enhance their clients' experience throughout all aspects of a conveyancing transaction.
Category
Property and conveyancing
Published
April 2022
Publisher
The Law Society
ISBN
9781784461317
Format
Paperback
184 Pages