You are here
COLPs Toolkit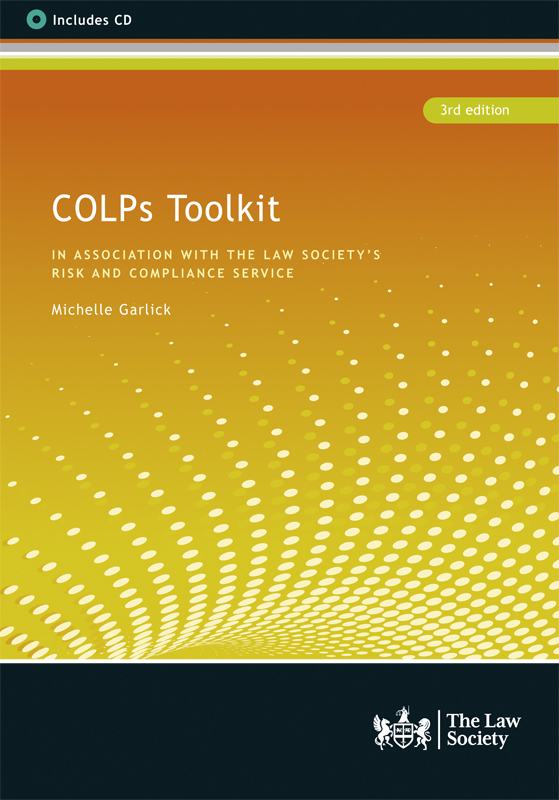 View larger image
COLPs Toolkit
3rd edition
Availability: Published
Every legal practice must have a compliance officer for legal practice (COLP).
The COLPs Toolkit contains the essential checklists, forms, policies and other documentation that a COLP needs to perform their role in a handy single volume.
The 3rd edition has been updated to reflect the SRA Standards & Regulations, introduced in November 2019, as well as other legislative and regulatory changes introduced since the last edition, such as the EU GDPR and the Data Protection Act 2018.
The accompanying CD-ROM contains documents that you can customise for use in your own firm.
This book is essential to assist practitioners in demonstrating due diligence and remaining compliant with the new Standards and Regulations.
---
Reviews
Packed with practical wisdom and updated for SRA Standards and Regulations, the author's calm, authoritative tone is a welcome beacon in the ebb and flood of the compliance tide. Her comprehensive and accessible guidance is bulwarked with generous precedents that will help any COLP sleep at night.
Fiona du Feu runs a risk and compliance consultancy for lawyers.
Contents
1. Role of the COLP; 2. Becoming a COLP; 3. Ensuring compliance; 4. Reporting to the SRA; 5. Additional COLP tools; Appendices.
About the Author
Michelle Garlick has been a partner in Weightmans since 2008 where she is responsible for Weightmans' 'Compli' service, advising the legal sector on regulation and compliance. She is the past president of Manchester Law Society and is the chair of its regulatory affairs committee. Michelle is the author of the previous two editions of the COLPs Toolkit, is a contributor to and a member of the editorial board of the Legal Compliance Bulletin and is a consultant for the Law Society's Risk & Compliance Service.
Category
Regulation and compliance
Published
October 2020
Publisher
The Law Society
ISBN
9781784461522
Format
Paperback + CD
144 Pages