You are here
Commercial Law Handbook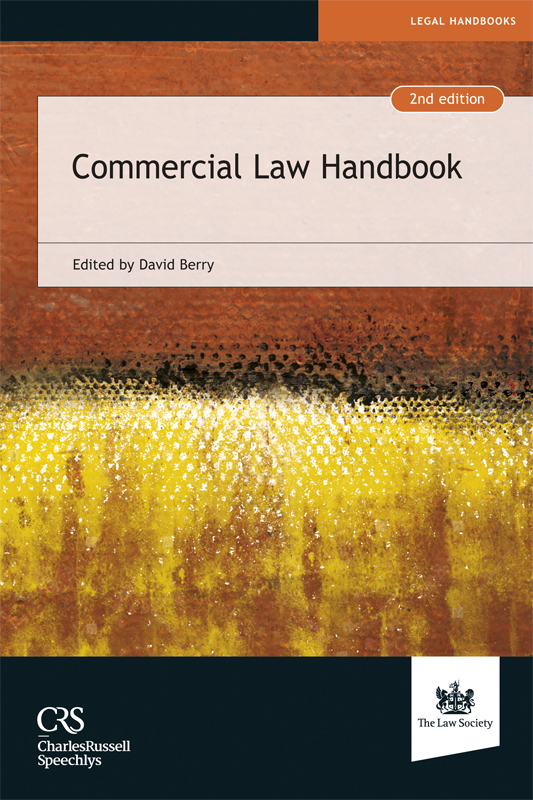 View larger image
Commercial Law Handbook
2nd edition
Availability: Published
Written by an authoritative team of contributors from Charles Russell Speechlys, the Commercial Law Handbook examines the structure of the most commonly encountered transactions and provides a checklist of the terms that need to be included in the agreements and an analysis of the issues that need to be considered when drafting them.
The book includes:
an overview of the considerations that will underpin any commercial agreement, including basic contract law, choice of jurisdiction and the allocation of risk between the parties
detailed consideration of all the key types of agreement, ranging from agency, distribution and franchising agreements through to joint ventures and agreements for services and the sale and supply of goods
discrete chapters on competition law and the resolution of commercial disputes
practitioner's checklists for specific types of agreement
a checklist of boilerplate provisions.
This second edition covers the following developments:
Consumer Rights Act 2015
General Data Protection Regulation (Data Protection Act 2018)
Rome I Regulation on governing law
Recast Brussels Regulation on jurisdiction and the recognition and enforcement of judgments
Competition and Markets Authority succeeding the Office of Fair Trading
case law clarifying rights of agents and operation of Commercial Agents
Regulations
perspectives on the potential impact of Brexit.
---
Contents
1. Introduction: what is a commercial contract and how to draft one
2. Services agreements
3. Sale and supply of goods agreements
4. Distribution agreements
5. Agency agreements
6. Licensing and franchising agreements
7. Joint ventures
8. The competition law aspects
9. Resolution of commercial disputes
Appendix.
About the Author
David Berry is a partner in Charles Russell Speechlys, where he advises on non-contentious commercial and corporate matters, including project and procurement contracts, international joint ventures, outsourcing and other long-term business relationship structures. He has a particular interest in IT, cleantech, energy (including renewables) and natural resources. Clients range from individual entrepreneurs to governments.
Category
Company and commercial
Published
August 2018
Publisher
Law Society
ISBN
9781784461133
Format
Paperback
336 Pages