You are here
Compliance and Ethics in Law Firms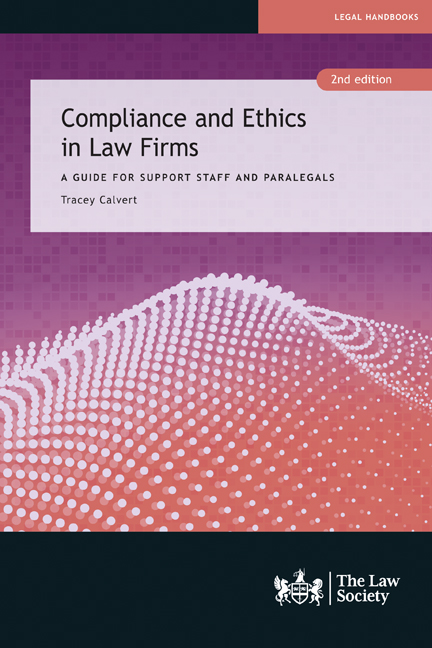 View larger image
Compliance and Ethics in Law Firms
A Guide for Support Staff and Paralegals, 2nd Edition
Availability: Forthcoming
Compliance and Ethics in Law Firms provides guidance on SRA regulations for non-lawyers working in law firms and for those who are responsible for ensuring that they comply with the SRA's rules (such as COLPs, COFAs and learning and development professionals). There are regulatory and legal consequences both for these individuals and for their firms if they fail to demonstrate the correct behaviours. It is therefore essential that everyone who works in a law firm understands the compliance and ethical requirements of SRA regulations.
This second edition has been updated to reflect the major changes introduced in the SRA Standards and Regulations in November 2019, as well as key legislation such as the Money Laundering Regulations 2017, the Criminal Finances Act 2017 and the General Data Protection Regulation and Data Protection Act 2018, with examples of non-compliant and unethical behaviour drawn from recent Solicitors Disciplinary Tribunal decisions. These changes are of great significance and this edition will explain them and provide the reader with a toolkit of regulatory and ethical knowledge which can be applied to their specific circumstances.
---
Contents
1. Introduction,
2. The Regulatory Landscape,
3. The SRA Standards and Regulations,
4. The SRA Principles 2019,
5. The Two SRA Codes of Conduct 2019 - Essentials for All Staff,
6. Other Conduct Requirements,
7. Complying with the SRA Accounts Rules 2019,
8. Practising Certificates, Job Titles and the Risk of Holding Out,
9. Key Legislation for Law Firms,
10. Compliance in a Nutshell,
11. Conclusion, and
Appendices
About the Author
Tracey Calvert is a lawyer who has worked both in private practice and in-house. She has been a senior ethics adviser and then a policy executive with the Law Society and the SRA. She now runs her own consultancy business which provides compliance and ethics services. She is the author of several books, contributes to Cordery on Legal Services and is on the board of the Law Society's Legal Compliance bulletin.
Category
Regulation and compliance
Published
December 2019
Publisher
Law Society
ISBN
9781784461157
Format
Paperback
224 Pages