You are here
Contentious Probate Handbook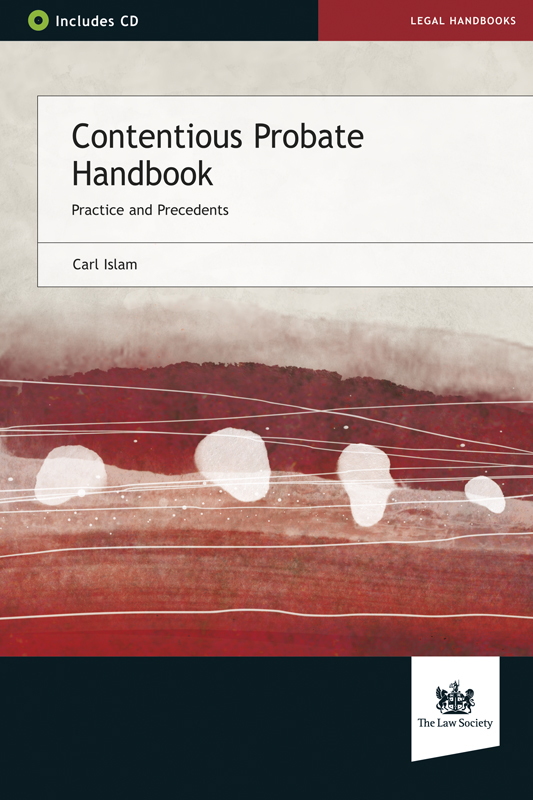 View larger image
Contentious Probate Handbook
Practice and Precedents
Availability: Published
This practical, accessible and authoritative handbook covers all aspects of the law and practice relevant to probate disputes, including:
removal of executors and trustees
probate disputes, including due execution, lack of testamentary capacity, lack of knowledge and approval, undue influence, and fraud and forgery
sham trusts and foundations
Inheritance Act claims
interpretation and rectification of wills
beneficial interest and proprietary estoppel claims.
In addition to detailed guidance on claim analysis and preparation, Chancery litigation and the CPR, the author gives an account of costs management, and considers all ADR options.

Practitioners will also benefit from contributions from Dr Hugh Series on mental disorders, and from Ellen Radley on forensic examination of handwriting and questioned documents.

This concise appendix contains helpful precedent letters, pleadings and orders, which are also included on the accompanying CD.
---
Contents
1. Introduction
2. Preliminary steps
3. Removal of executors and trustees
4. Probate disputes
5. Inheritance Act claims
6. Interpretation and rectification of wills
7. Beneficial interest and proprietary estoppel claims
8. Litigation
9. Costs
10. Alternative Dispute Resolution
Appendix:
A. Precedents
B. Notes
C. Bibliography.
About the Author
Carl Islam is a practising barrister at 1 Essex Court in London who specialises in contentious probate. He is also a non-practising solicitor, TEP and a SCMA Accredited Mediation Advocate.
Category
Private client
Published
October 2016
Publisher
Law Society
ISBN
9781784460600
Format
Paperback + CD
432 Pages