You are here
Conveyancing Checklists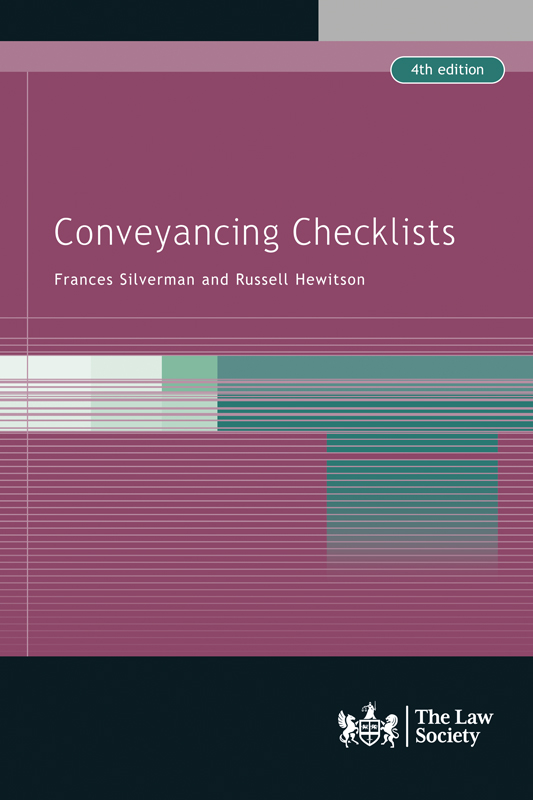 View larger image
Conveyancing Checklists
4th edition
Availability: Forthcoming
Refining conveyancing procedures can save valuable time and money and so contribute towards a profitable practice. Using checklists is a reliable method of avoiding pitfalls and of ensuring that all the necessary steps in a transaction have been successfully fulfilled, in order and to deadline.
Conveyancing Checklists provides a comprehensive range of checklists and standard letters that follow the order of a transaction.

This fully updated fourth edition covers:
the Conveyancing Protocol 2019;

Updated Code for Completion;

changes to property and environmental searches and forms including the Standard Conditions of Sale and Standard Commercial Property Conditions;

fully revised standard letters and a comprehensive Model Solicitor's Property Report; and

changes to the SDLT and Wales Land Transaction Tax.
---
Contents
1. General Matters; 2. Taking instructions; 3. Pre-contract procedures; 4. Contracts; 5. Exchange of contracts; 6. Pre-completion procedures; 7. Completion and post-completion; 8. Mortgages; 9. Building estates; 10. Sales of part; 11. Leaseholds; 12. Remedies; 13. SDLT, VAT and other tax matters; 14. Registered land; Appendices.
About the Author
Frances Silverman is a solicitor and formerly a reader at the University of Law. She is the general editor of the Law Society's Conveyancing Handbook and author of other books on conveyancing and professional ethics. She sits as a fee paid employment judge, a judge in the First Tier Property Tribunal, and is a founder member of the Institute of Expert Witnesses. Russell Hewitson is an Associate Professor at Northumbria University. He qualified as a solicitor in 1988 and practised with Ward Hadaway, before joining Northumbria University in 1992 where he has taught and researched conveyancing law and practice. Russell has lectured widely on conveyancing and other property related topics to both students and solicitors, licensed conveyancers and other property professionals.
Category
Property and conveyancing
Published
October 2022
Publisher
The Law Society
ISBN
9781784461591
Format
Paperback
288 Pages