You are here
Conveyancing Quality Scheme Toolkit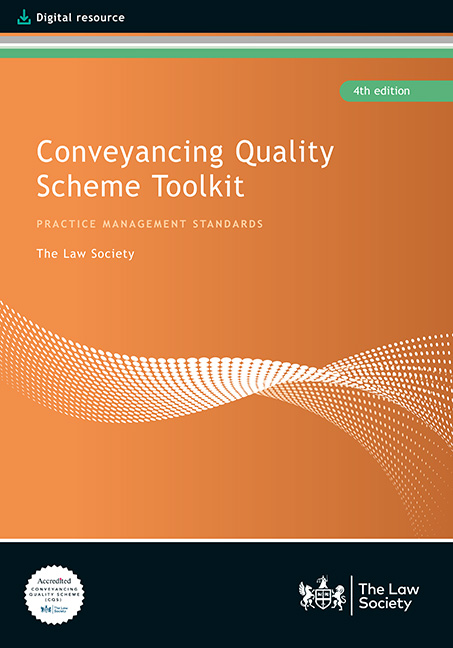 View larger image
Conveyancing Quality Scheme Toolkit
4th edition
Availability: Published
---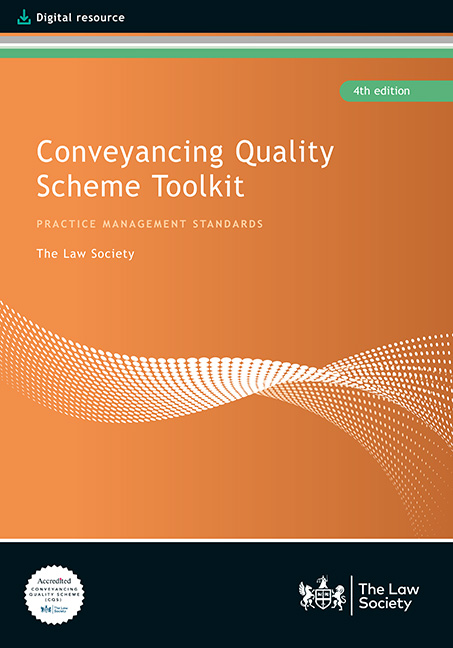 ---
The Law Society Conveyancing Quality Scheme is the quality standard for residential conveyancing practices. Accreditation under the scheme provides assurance to lenders, insurers, consumers and clients.
The Conveyancing Quality Scheme Toolkit helps residential conveyancing practices to understand, implement and maintain the CQS protocol, and to comply with the core practice management standards (CPMS) that must be followed by all practices within the scheme. 
The fourth edition of the Toolkit has been fully revised and updated and aligns with:
the Conveyancing Protocol 2019
the latest CPMS, published in February 2022
the new mandatory procedure to ensure that applications are checked before being sent to HM Land Registry (7.4 CPMS)
the Money Laundering, Terrorist Financing and Transfer of Funds (Information on the Payer) Regulations 2017
the SRA Standards and Regulations 2019
the UK General Data Protection Regulation
Template policies and documents are also included for customisation.
This book is an indispensable addition to any conveyancing firm's library.
---
Reviews
Any CQS-accredited practice which does not have, and extract full value from, this reasonably priced update can certainly consider themselves to be missing a trick.
Sean Gordon is a non-practising solicitor, and former COLP and DPO
We have already been updating some of our standard letters as a result of having access to the toolkit, which is as good a recommendation as I can give. This sort of book, with everything in one place, is value for money.
Anna Newport is a solicitor and director at Newport Land & Law
Contents
1) Structure and strategy 2) Financial management 3) Information management 4) People management 5) Risk management 6) Client care 7) File and case management
---
About the Author
Russell Hewitson is an Associate Professor of Law at Northumbria University. He qualified as a solicitor in 1988 and practised with Ward Hadaway before joining Northumbria University in 1992 where he specialises in conveyancing law and practice. Russell has written widely on conveyancing and other property-related topics and is a consultant editor of the Conveyancing Handbook. He sits on the Law Society's Conveyancing and Land Law Committee and is a member of the Law Society Council. Sarah Dwight is a sole practitioner in Birmingham. She qualified in 1990 and established her own practice in 2000. She sits on the Law Society's Conveyancing and Land Law Committee, and leads the Residential Property Sub Group. Sarah is also a member of the Editorial Board of the Conveyancing Handbook.
infoProduct information
Category
Property and conveyancing
Published
August 2023
Publisher
The Law Society
ISBN
9781784462239
Format
Paperback
256 Pages