You are here
Dealing with Digital Assets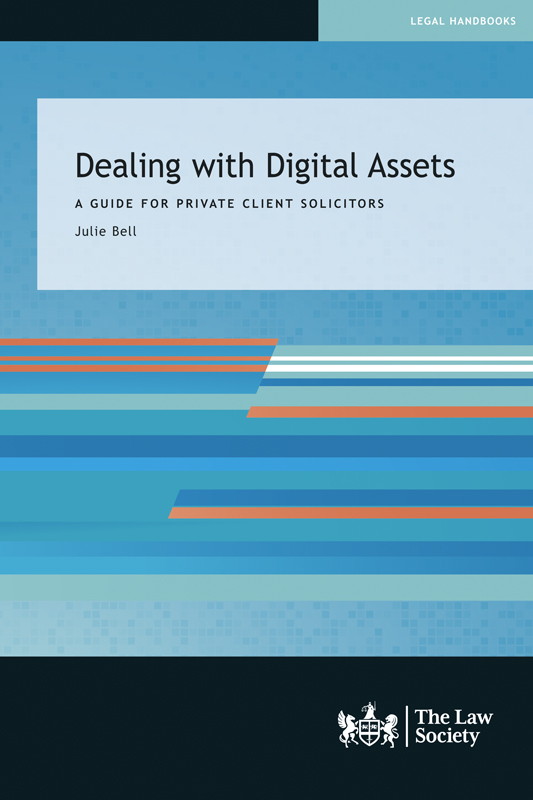 View larger image
Dealing with Digital Assets
A Guide for Private Client Solicitors
Availability: Published
Ninety-three per cent of people who have made a will in the UK have not included any provision for their digital assets when they die. It is therefore vital that all practitioners involved in drafting wills and estate planning discuss with their clients what will happen to their digital estate on their death.
This book explains the practical and legal aspects of planning for and administering a digital estate:
what constitutes a digital asset;
digital assets and the law;
how to consider digital assets when drafting wills;
dealing with digital assets after death;
the digitisation of wills and will signing; and
financial abuse and digital assets.
The book provides guidance and precedents for dealing with digital assets when drafting wills and also covers issues such as the risks for solicitors, data security, access rights and valuing digital assets. A template for a digital assets inventory is also included.
---
Reviews
This book is highly relevant to practitioners who prepare wills and administer estates. It should be on every such practitioner's bookshelf and actually be read from cover to cover…It is an invaluable resource and will surely help practitioners mitigate against the risk of claims in respect of digital assets.
Gill Steel, LawSkills
This is a great read for anyone who has so far resisted getting under the bonnet of this important, growing asset-class. It is also a handy pocketbook of precedents.
Sheree Green, Director, Greenchurch Legal
Contents
1. What are digital assets? 1.1 Introduction; 1.2 Media; 1.3 Written; 1.4 Cloud storage; 1.5 Social; 1.6 Design; 1.7 Financial; 1.8 Non-digital assets; 2. Issues to consider when drafting wills; 2.1 Introduction; 2.2 Training to deal with digital assets; 2.3 Insurance; 2.4 Initial enquiry and terms of engagement; 2.5 Terminology; 2.6 Digital asset inventory; 2.7 Taking instructions; 2.8 Choice of executor; 2.9 Specific drafting issues; 2.10 Precedents; 2.11 Dealing with assets outside the will; 3. Dealing with digital assets post death; 3.1 Introduction; 3.2 The role and duties of personal representatives; 3.3 Deletion or retention – what should personal representatives do?; 3.4 Ascertaining digital assets; 3.5 Digital assets that are not part of the estate; 3.6 Reducing risk for solicitors; 3.7 Date security and access rights; 3.8 Valuing assets; 3.9 Dealing with individual assets; 3.10 Wiping devices prior to transfer, disposal or sale; 3.11 Finalising tax to the date of death; 4. Planning for the future; 4.1 Introduction; 4.2 Powers of attorney; 4.3 Accessing assets; 4.4 Using digital technology to improve life; 5. The digitisation of wills and will signing; 5.1 Introduction; 5.2 Digitisation and electronic signatures; 5.3 Law reform; 5.4 Law reform outside of England and Wales; 5.5 Reform of lasting powers of attorney; 5.6 COVID-19 and law reform in England and Wales; 5.7 Managing the risk of remote witnessing; 5.8 COVID-19 and law reform outside of England and Wales; 5.9 Conclusion; 6. Financial abuse and digital assets; 6.1 Introduction; 6.2 The different types of digital scamming; 6.3 What to do if you suspect a client is being scammed; 6.4 How to signpost clients; 6.5 Options for personal representatives; Appendix A: Digital asset inventory.
About the Author
Julie Bell is a consultant at a law firm in Manchester. She advises on all areas of private client with particular emphasis on assisting high net worth individuals and trusts. She acts as deputy, attorney, executor and trustee for clients. She is STEP qualified (with distinction). Julie edited the 10th edition of the Law Society's Will Draftsman's Handbook (2019) and lectures on the STEP Advanced Certificate in Will Preparation and STEP Advanced Certificate in Administration of Estates. She is a member of the STEP Manchester committee and is a part-time law lecturer at Staffordshire University.
Category
Private client
Published
May 2021
Publisher
The Law Society
ISBN
9781784461027
Format
Paperback
144 Pages