You are here
Forfeiture of Leases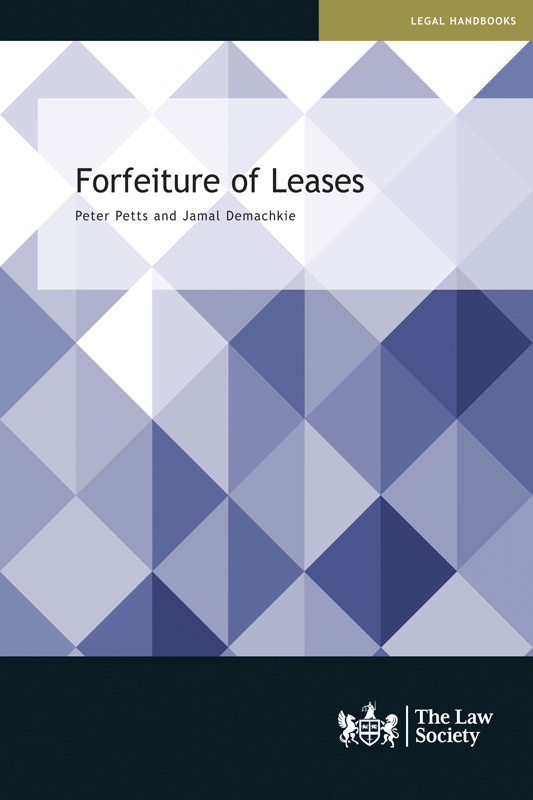 View larger image
Forfeiture of Leases
1st edition
Availability: Published
Forfeiture is the principal legal means of recovering possession of land in a commercial landlord and tenant context. 
Despite statutory restrictions, it also remains very relevant in a residential context (particularly in respect of leasehold service charges).
Forfeiture of Leases is a new book offering comprehensive and authoritative guidance on the subject covering both residential and commercial issues.
It is an essential guide for practitioners dealing with the principles of forfeiture, whether or not on a frequent basis.  It not only provides those with less experience of this area with a clear statement of the law and a straightforward answer to whatever issue has arisen, but also more in depth discussion of those issues which have troubled judges and practitioners, alike, over the centuries.
It includes reference to source material.
---
Reviews
I found this book to be a clear and concise guide which I will certainly turn to when dealing with relevant client enquiries in practice. The authors have succeeded in putting together a resource which intuitively answers a number of practice points which a practitioner will want to be able to check, both at the outset and during the progression of a case.
Jenny Kemp, Associate at WBW LLP
The authors are both practicing barristers with many years practical experience in landlord and tenant law and this is evident in the in-depth and yet intensely practical approach they take to this complex area of law in their book.
Sarah Thompson-Copsey, Freelance Legal Trainer
Contents
1. The nature of forfeiture; 2. The right to forfeit; 3. Breach; 4. Limitations on exercising the right to forfeit - s.146 LPA 1925; 5. Other limitations on exercising the right to forfeit; 6. The effect of tenant insolvency; 7. Waiver of the right to forfeit; 8. How to forfeit; 9. Relief from forfeiture - breaches other than rent; 10. Relief from forfeiture - rent arrears; 11. Relief from forfeiture – third parties; 12. Post forfeiture considerations; 13. Reform.
About the Author
Peter Petts has over 20 years' first-hand experience of forfeiture of commercial and residential leases. He is described as "Outstanding" in the legal directories and regularly accepts all levels of court and tribunal instructions, predominantly in the fields of landlord and tenant, and real property. Jamal Demachkie is recommended in all major legal directories for his property expertise. "A junior to behold", he has been involved in several of the leading cases on landlord and tenant law. He sits as both a Deputy District Judge and Recorder.
Category
Property and conveyancing
Published
September 2021
Publisher
The Law Society
ISBN
9781784461546
Format
Paperback
240 Pages