You are here
Inheritance Act Claims, 3rd edition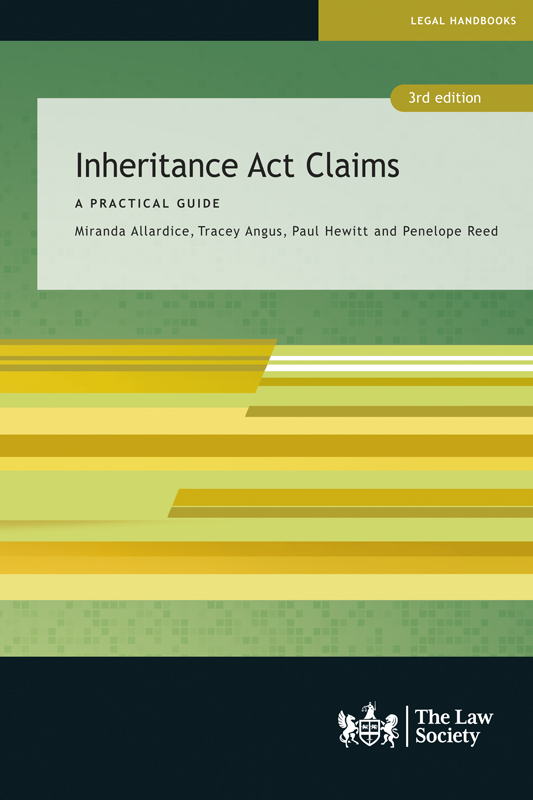 View larger image
Inheritance Act Claims, 3rd edition
A Practical Guide
Availability: Published
---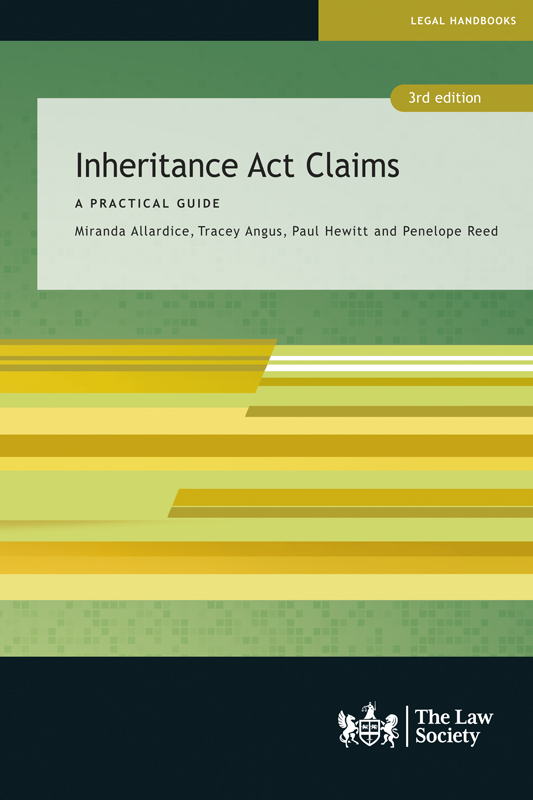 ---
Inheritance Act Claims is a highly practical book which provides a comprehensive guide to claims brought under the Inheritance (Provision for Family and Dependants) Act 1975.
The book provides guidance on how to conduct claims, the court's approach, assessing quantum, the tax implications of orders and compromises, and the issues arising for will drafting.
This third edition has been fully revised and updated to cover key case law decisions on a range of important issues, including:
appeal cases relating to extension of time for bringing a claim;
recovery of conditional fee uplifts;
qualification as a spouse;
provision for a disabled widow;
adult child cases after Ilott;
provision for a longstanding cohabitee;
interim provision and costs; and
reasonable financial provision for minor children, and young adults.
The appendix materials include a range of helpful precedents, the ACTAPS Practice Guidance for the Resolution of Probate and Trust Disputes, and extracts from all the relevant legislation and Civil Procedure Rules.
---
Reviews
An invaluable book for lawyers drafting Wills and administering estates where the Act could affect their work. It is a comprehensive guide to claims brought and can be conveniently popped into a briefcase to share its contents with clients as appropriate. I would recommend this book to practitioners.
Gill Steel, LawSkills
Written by a group of leading names in the field, I had high hopes for this book and it doesn't disappoint. ..This book is one that will end up a tatty mess from over referencing. My copy is already dog eared, covered in my scribbled notes, post it notes and highlighter pen. It simply needs to form part of every contentious probate solicitors resource library.
Michael Culver, Founder and Managing Director of Culver Law Ltd and Chairman of SFE
Contents
1. Overview; 2. Threshold jurisdiction; 3. Categories of applicant; 4. The general approach to claims; 5. Surviving spouses and civil partners; 6. Provision for applicants on the maintenance standard; 7. Anti-avoidance provisions; 8. Procedure; 9. Orders which the court can make; 10. Compromise; 11. Will drafting and the will file; 12. Role of the personal representative/trustee; Appendices.
---
About the Author
Miranda Allardice is a barrister and mediator at 5 Stone Buildings. She is a member of ACTAPS and the Chancery Bar Association. Tracey Angus QC is a barrister at 5 Stone Buildings. She is a member of ACTAPS and the Chancery Bar Association. Paul Hewitt is a partner in Withers LLP's top ranked trust, estate and inheritance disputes team. He is a member of STEP and ACTAPS. Penelope Reed QC is a barrister at 5 Stone Buildings. She is a member of STEP, ACTAPS and the Chancery Bar Association.
infoProduct information
Category
Private client
Published
May 2022
Publisher
The Law Society
ISBN
9781784461904
Format
Paperback
338 Pages