You are here
Probate Practitioner's Handbook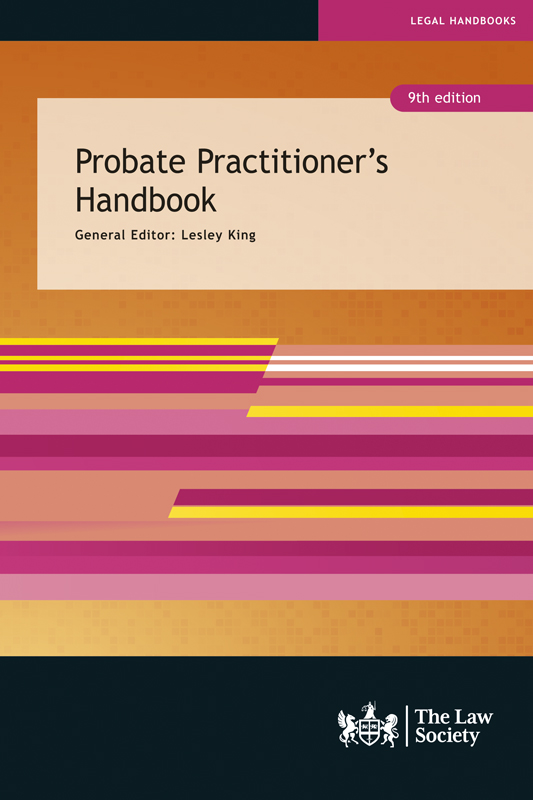 View larger image
Probate Practitioner's Handbook
9th edition
Availability: Published
---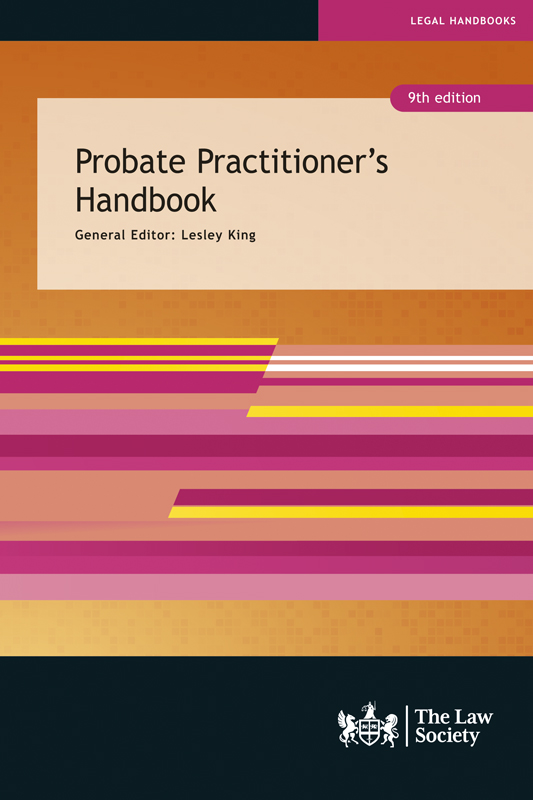 ---
The Probate Practitioner's Handbook is a well-established and popular guide to good practice for solicitors' firms that undertake probate and estate administration work.
This new ninth edition has been comprehensively updated by leading experts to take account of:
money-laundering issues including the requirements of the 5th EU Anti-Money Laundering Directives and the updated LSAG guidance;
the SRA Accounts Rules 2019;
changes resulting from the new SRA Standards and Regulations;
new SRA guidance relevant to practitioners;
updates to relevant practice notes including disputed wills and handling complaints;
Inheritance and Capital Gains Tax developments;
implications of the UK leaving the European Union;
the introduction of the SRA Transparency Rules;
implications for practitioners arising from the Covid pandemic; and 
the different ways in which foreign elements may affect the English probate practitioner.
An essential new chapter explains how data protection law applies in the context of the administration of estates.
Features such as checklists, precedents, case commentaries and examples enhance the book's usefulness.
---
Reviews
Clearly and concisely written with the realities of private client practice in mind, this is a valuable reference for solicitors' firms undertaking probate and estate administration work.
Laura Pickett is a solicitor at Jeromes Solicitors, Sandown, Isle of Wight
Without a doubt, the Handbook is a must for those undertaking probate work, as it covers every aspect of the estate administration process, and in a practical and accessible way. I wouldn't be without my copy of the Probate Practitioner's Handbook, and neither should you be.
Kate Mahon, solicitor & director at Davidson Mahon Solicitors
Contents
Part 1: Probate and the Professional Rules; 1. Wills and Inheritance Protocol; 2. Taking instructions; 3. Client care; 4. Non contentious costs; 5. Complaints; 6. Financial services and money laundering; 7. Data protection law in the context of the administration of estates; 8. SRA Accounts Rules 2019; Part 2: Probate, Wills and the Law; 9. The Law on Wills and Succession: A Review; 10. Revocation and revival of wills; 11. Interpretation and Rectification of Wills; 12. Time for Probate; 13. Appointing Guardians of Children; 14. Probate and Benefits; 15. Claims Under the Inheritance (Provision for Family and Dependants) Act 1975; 16. Contentious Probate; Part 3: Practical Probate; 17. Inheritance Tax; 18. Varying the Disposition of an Estate; 19. Probate Problems; 20. Digital Assets; 21. Dealing with Foreign Assets and Estates; 22. Accounting and distributing; 23. Probate practice checklists; Appendices.
---
About the Author
Professor Lesley King is a well-known and respected commentator and lecturer on private client matters. She is an authoritative and clear communicator with a number of publications to her credit.
infoProduct information
Category
Private client
Published
February 2021
Publisher
The Law Society
ISBN
9781784461669
Format
Paperback
664 Pages