You are here
Renewal of Business Tenancies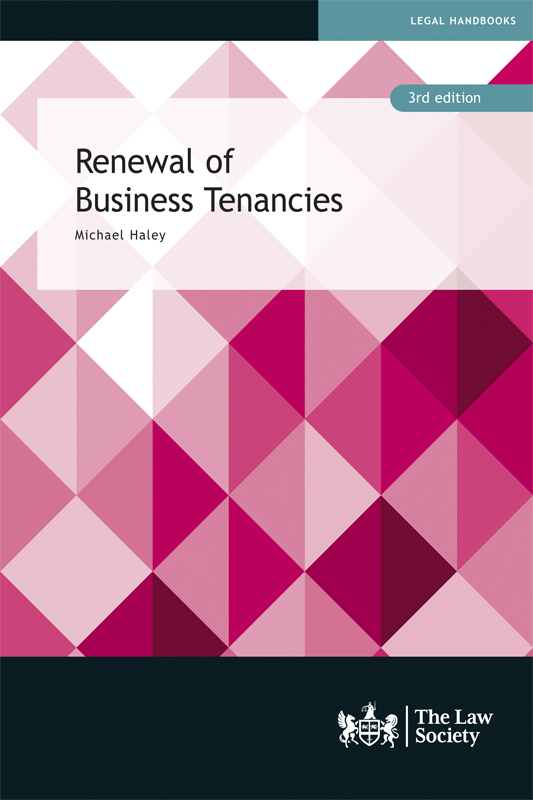 View larger image
Renewal of Business Tenancies
3rd edition
Availability: Forthcoming
The renewal of business tenancies is subject to compliance with strict legal requirements including technical statutory procedures, time-limits, and the service of prescribed notices and forms. Accordingly, the operation of the renewal provisions is heavily dependent upon the right person doing the right thing at the right time.
In this book, Michael Haley unravels the complexity of the legal requirements with:
the background to and policy and catchment of the 1954 Act;
an explanation of the provisions for contracting out;
a clear statement of the rights and obligations of the parties;
guidance on the intricacies and pitfalls of the renewal procedure;
consideration of the interim rent scheme; and
an account of the discretionary and mandatory grounds of opposition.
This third edition has been fully updated to include changes to the 1954 Act brought about by the Covid Code, MEES, the RICS Code of Practice, the Pubs Code, the Telecommunications Code and the treatment of home businesses.
The book also examines new reported case law including:
Anixter v. Secretary of State for Transport (2020) (the relationship between the contractual and continuation tenancy);
Vodafone Limited v. Hanover Capital Limited (2021) (the interaction between the Act and the Telecommunications Code; and s.34 rental valuation);
Kent v. Guest (2021)(contracting out and s.30(1)(f); and
TFS Stores Ltd v. The Designer Retail Outlet Centres (2020) (agents and contracting out).
A variety of equally up to date and unreported cases are also analysed including:
WH Smith Retail Holdings Ltd v. Commerz Real Investmentgesellschaft MBH (2021)(rent suspension clause and the pandemic);
Zash Properties Ltd v. Mayworth Ltd (2020) (effect of residential conversion); and
the county court return of S Franses Ltd v. The Cavendish Hotel (London) Ltd (2021)(interim rent and new terms).
Further commentary embraces additional developments brought about by case law since the last edition in 2013.
---
Contents
1. Past, present and beyond; 2. The Statutory Scheme and Contractual Ties; 3. Scope of the act; 4. Landlord's s.25 notice; 5. Tenant's rights: requesting a new tenancy and compensation; 6. Applications to court; 7. Interim rent; 8. Opposition: Illegality and the discretionary grounds; 9. Mandatory grounds of opposition; 10. New lease.
About the Author
Michael Haley is a solicitor and Professor of Property Law at Keele University, where he teaches land law, equity and trusts and business leases. Michael is a regular contributor of articles in the legal press and has written extensively on the Landlord and Tenant Act 1954.
Category
Property and conveyancing
Published
February 2022
Publisher
The Law Society
ISBN
9781784461881
Format
Paperback
368 Pages