You are here
Will Draftsman's Handbook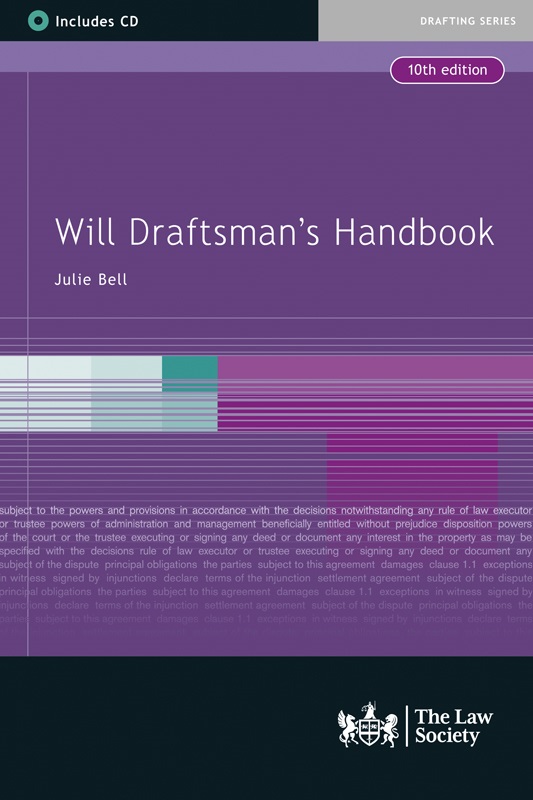 View larger image
Will Draftsman's Handbook
10th edition
Availability: Published
This popular book assists practitioners with the preparation of wills for the most commonly encountered situations. The concise and accessible text combines practical tools and expert guidance, including commentary on the underlying law, over 50 precedent clauses which can be readily assembled to draft wills, specimen will forms and essential statutory extracts.
The 10th edition has been fully revised to include:
a new chapter on risks for the draftsman
changes resulting from the residence nil rate band
digital assets
recent case law and its implications
revisions and modernisation of precedent clauses
new precedents on capacity assessment, severance of joint tenancy and letter of wishes.
The book provides guidance on taking instructions, the duties of the draftsman, principles of drafting, the legal framework and the effect of taxation. The accompanying CD-ROM contains the precedent clauses and will forms for easy customisation.
---
Contents
Part I Preliminary Notes
1. How to use this book
2. The draftsman's responsibilities
3. Law of intestacy: some comparisons
4. Law of family provision – the 1975 Act
5. Effect of taxation
6. Statutory rules for the draftsman
7. Statutory rules of interpretation that determine relationships
8. Risks for the draftsman
Part II Precedent Clauses
A. Commencement
B Executor and trustees
C. Testamentary guardians
D. Specific gifts
E. Pecuniary legacies
F. Dispositions of residue
G. Overriding discretionary trusts
H. Trustees: powers; extended and additional powers
I. Conclusion
J. Codicils
K. Capacity Assessment
L. Severance of Joint Tenancy
M. Letter of wishes
Appendices
1. Statutory provisions relating to intestacy
2. Statutory provisions relating to family provision
3. Statutory provisions relating to post-death variations, disclaimers, etc.
4. Statutory provisions relating to powers of trustees (selected)
5. Statutory provisions relating to trusts for children and young people
6. Statutory provisions relating to the execution, revocation, alteration, rectification and interpretation of wills
7. Will forms
Index
About the Author
Julie Bell advises on all areas of private client and writes and lectures on the subject. Julie is a member of the STEP Manchester committee and the chief examiner for Wills and Probate Level 6 for CILEX.
Category
Private client
Published
September 2019
Publisher
The Law Society
ISBN
9781784461348
Format
Paperback + CD
304 Pages