You are here
Enforcement and Debt Recovery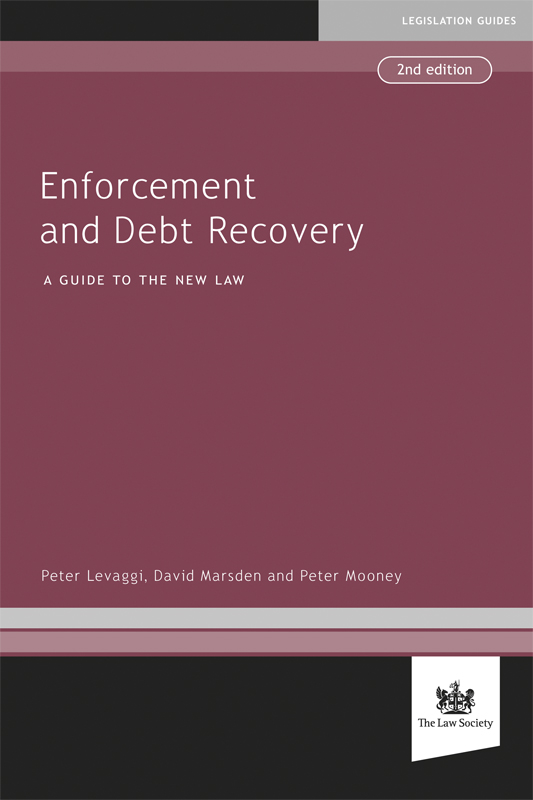 View larger image
Enforcement and Debt Recovery
A Guide to the New Law, 2nd Edition
Availability: Published
The law of enforcement and debt recovery has included some of the oldest law on the statute books of England. On 6 April 2014 long-awaited reforms, the most significant for hundreds of years, came into force, unifying and radically reforming the law governing enforcement agents. In the second edition of this popular book, highly respected practitioners with a wealth of experience in the enforcement industry set out a comprehensive review of the law of enforcement. Coverage includes:
the standards and certification for enforcement agents
a complete review of the Taking Control of Goods Regulations 2013
the abolition of distress for rent
the introduction of Commercial Rent Arrears Recovery (CRAR)
the criminalisation of squatting.
The authors combine their authoritative review and analysis of the law with insights into the practical impact of the rules and regulations, uniquely illustrated by numerous examples and practice points.

An essential book for enforcement agents, property lawyers, commercial landlords, surveyors and insolvency practitioners.
---
Contents
Part I:
1. Introduction
2. General rules about judgments and orders
3. Registration of judgments
4. Transfer of proceedings
5. Obtaining information about the debtor.
Part II:
6. Enforcement agents and warrants of control
7. Commercial rent arrears recovery
8. Insolvency of tenant/debtor
9. Enforcement by taking control of goods
10. Procedure for taking control
11. Between seizure and sale
12. Liability and remedies.
Part III:
13. Attachment of earnings orders
14. Third party debt orders.
Part IV:
15. Charging orders
16. Obtaining possession of commercial premises
17. Obtaining possession of residential premises
18. Obtaining possession from trespassers/squatters.
Part V:
19. Introduction to debt management and relief
20. Administration orders
21. Enforcement restriction orders
22. Debt relief orders
23. Debt management schemes.
About the Author
Peter Levaggi is a solicitor advocate and partner at Charles Russell LLP where he is head of the property litigation and property insolvency groups. David Marsden is a solicitor and partner at Charles Russell LLP, where he is head of the property litigation team in a branch office. Peter Mooney is a senior partner of the County Bailiff Group and Fellow of the National Association of Auctioneers and Valuers. He has over 22 years' experience as a bailiff.
Category
Property and conveyancing
Published
November 2014
Publisher
Law Society
ISBN
9781784460068
Format
Paperback
528 Pages