You are here
Divorce, Dissolution and Separation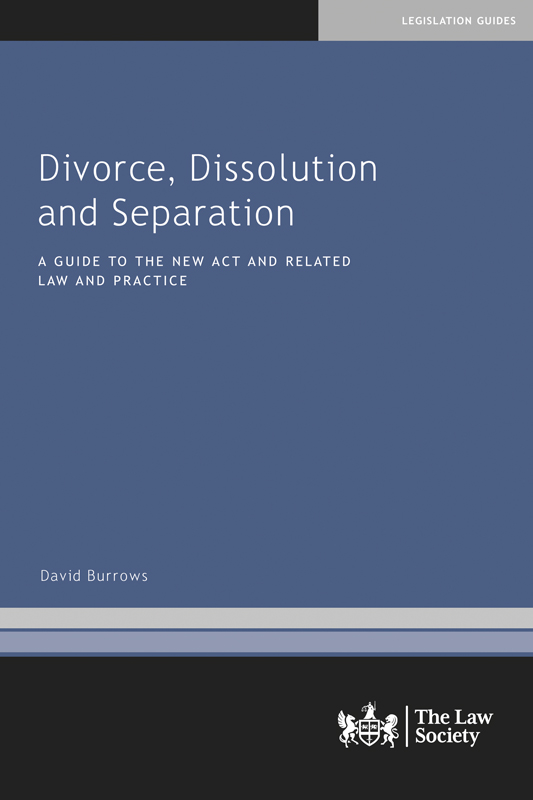 View larger image
Divorce, Dissolution and Separation
A Guide to the New Act and Related Law and Practice
Availability: Forthcoming
This new book is a practical and up-to-date guide to the reforms and related issues arising from the Divorce, Dissolution and Separation Act in relation to marriage and civil partnership in England and Wales.
This book will provide you with:
an explanation of which features of the existing law will remain and which new features will derive from the Act;
up-to-date information on the latest procedural changes, so that you can advise your clients with confidence; and
procedural advice on issues such as validity of marriage.
---
Contents
1.Introduction; 2. Marriage, civil partnership and validity; 3. DDSA the law and regulations; 4. Standard cases; 5. Disputed cases; 6. Interim applications in cases; 7. Starting and service of application; 8. Delay of cases and rescission; 9. Money and agreements; 10. Costs; Appendices.
About the Author
David Burrows is a specialist family lawyer; solicitor advocate in all levels of court (including House of Lords); first secretary of Bristol Mediation Service (then conciliation service): 1976; founder member of Solicitors Family Law Association (now Resolution), chairman 2003/4; and a founder member of Law Society's Children Panel.
Category
Private client
Published
September 2022
Publisher
The Law Society
ISBN
9781784461492
Format
Paperback
192 Pages