You are here
Employment Tribunals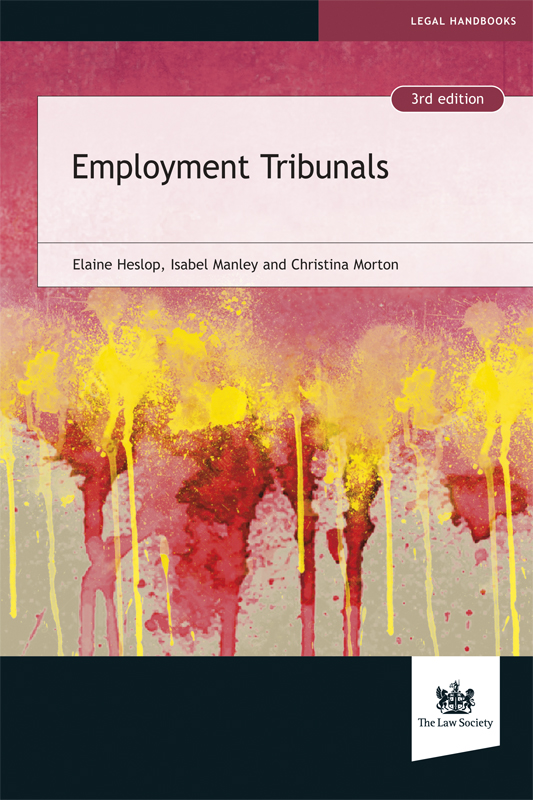 View larger image
Employment Tribunals
A Practical Guide, 3rd Edition
Availability: Published
This indispensable guide to employment tribunals has been completely updated and revised. It provides detailed coverage of the legal and procedural issues involved in bringing a case to an employment tribunal, from both claimant and respondent perspectives.

The third edition takes account of:
the replacement of the 2004 Rules with the 2013 Rules
the abolition of fees as a result of the Supreme Court decision in R (on the application of UNISON) v. Lord Chancellor [2017] UKSC 51
the introduction of mandatory early conciliation through ACAS
the increased use of Presidential Guidance and Practice Directions.
Concise and portable, this book is ideal for use in tribunals. It has many practical features, including a model case that runs throughout the book, illustrating and clarifying the points made, and checklists that will assist in preparation and promote good practice.
---
Contents
1. Introduction
2. Pre-claim procedures and time limits
3. Alternatives to litigation
4. Starting a claim
5. Responding to a claim
6. Parties progressing the case
7. The Tribunal's power of case management - matters dealt with/without a hearing
8. Preliminary hearings
9. Preparing for the final hearing
10. The final hearing
11. Judgments and reconsiderations
12. Remedy
13. Costs and enforcement.
About the Author
Elaine Heslop is a solicitor and freelance trainer. She has practised in a law centre and university law clinic and volunteers at the Mary Ward Legal Centre. Isabel Manley is a salaried employment judge and has taught at London Metropolitan University and the University of Cape Town. She volunteers at the Legal Resources Centre in Cape Town and is a Diversity and Community Relations Judge. Christina Morton is a solicitor and professional support lawyer in the employment team at Withers LLP and has been a fee-paid employment judge since 2010.
Category
Employment
Published
October 2018
Publisher
Law Society
ISBN
9781784460495
Format
Paperback
352 Pages